Live and Work Anywhere in the World
Marketing Strategies for Passionate Entrepreneurs Living Abroad
Empowering Entrepreneurs Around the Globe
Imagine if you could set up your own online business that would follow you and allow you to work anywhere.
The Success Of Your Digital Business Relies On 3 Simple Concepts

Your website is more than a fancy business card. It is where the magic happens, it will turn strangers into customers.
Words are powerful, they can inspire your readers or leave them unimpressed. No matter which industry! I work with coaches, start-up owners, and consultants.
Proven Selling Techniques
There aren't any secrets to making clients eager to hire you. However, there are techniques you apply to promote your services anywhere in the world.
We've all been there!
You're spending countless nights going through job sites, looking for remote jobs.
It is exhausting and frustrating while still working a 9-to-5 job!
Seems Impossible!
You know you need to figure out this whole online business thing. The amount of information available is overwhelming and actually, it's fueling your procrastination.
Being stuck isn't fun. Let's get you unstuck!
Having lived and worked in 5 different countries in the past 20 years, I have been in your shoes. But I learned to adapt quickly and embrace changes with a smile! Running an online business doesn't have to be complicated. I promise!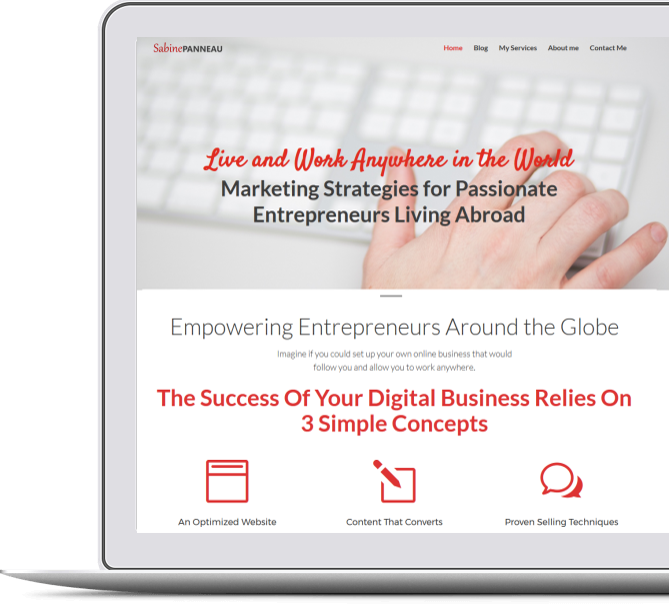 If you are stuck in overwhelm and don't know what to do next, check out the following blog posts and free guides.
In this site you will find
Free Ebook on Tools to Run an Online Business
A Step-by-step Guide on Blogging
Essentials for an Optimized Website
Content Marketing and Copywriting Tips
Interviews of Successful Entrepreneurs Around the World
Articles on Living Abroad
August 2009 – 308km (191 miles) – 12 days – León to Saint James (Santiago) – Spain. It was summer 2009 and I was living in Valencia, Spain at the time. The country was going through one of its toughest financial crisis in recent times and finding a job was tricky. I...
30 DAY ONLINE BUSINESS CHALLENGE
Transform your online business in just 15 minutes a day.
Let's get you unstuck. Marketing your online business shouldn't take you away from the main purpose of your business. Let me help you turn visitors into clients (and concentrate on your business instead of trying to learn how to do online marketing).
Increasing your traffic and attracting your ideal clients isn't difficult. I promise!