4 essentials when starting your own business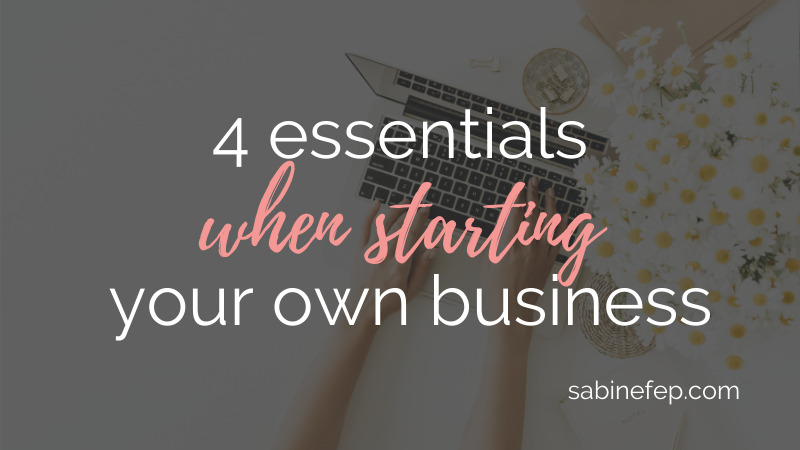 Starting your own business is an intimidating yet exciting endeavour to pursue.
Many people dream about getting something off the ground, start their own business or make their marks in their industry or field of expertise but many give up on their dreams even before getting started.
However, you may have some resistance and feel stressed thinking about it. I am sure you also have dozens of question about what you could do and how you can make it work; this is totally normal.
But, what you need to do first is believe you can do it – remember, if you don't have confidence in your abilities, then nobody else will have as well, so you need to exude determination and focus like never before.
There are many ways you can break this monumental task into smaller pieces and tackle each one head-on and productively and efficiently.
That said, here are four essentials when starting your own business you need to think about in order to build a solid foundation to later build upon.
Photo by Vlada Karpovich from Pexels
Business plan
The first thing to do when considering starting a business is to create a business plan. A business plan is a document where you will be laying out the goals, mission, and vision for your company as well as how you plan on achieving these goals.
Your business plan will also need to include timelines in which these goals are predicted to be completed. Ensure you have a breakdown of the initial capital required to get the business off the ground as well – if you're thinking of approaching an investor or applying for a business loan, you'll need the cost breakdown to show where all the money will be going.
There are platforms you can use, which can serve as a guideline when starting to draw up your business plan and some additional tips on all the essential subjects that will need to be addressed in the document.
Office
The office will be your headquarters, the place where all the big decisions will be made. Finding an office that suits your needs can be frustrating at times, but remember to stick to your budget and be a little picky when viewing potential offices.
Ask yourself some questions before starting the office-hunting process, such as how much space you need, what amount of rent you can afford, and also in which neighborhood you want your offices to be situated in.
Also, something you can think about if not wishing to dive head-first into the commitment that comes with hiring an entire office is a virtual office.
Luckily, there are people out there who can help you find a cheap virtual office to get settled in in order to prevent wasting time on being unproductive and distracted. 
Website
Crucial to any modern business' success, a website can give you that extra exposure you need to boost sales and also your company's exposure.
There are many benefits accompanied by having a website, such as having a platform open to the world 24/7 each day, available for orders and business deals.
A website is also great to attract customers seeing as most people today google something they need help with and then click on the first thing that pops up, automatically assuming it should be the best after being ranked number on google.
With regards to your business' website, you can either try building it yourself if you feel up to it or hire a software developer who can build a website you are proud of. 
Marketing campaign
Your marketing campaign will determine the amount of business your company receives in the beginning, seeing as people won't know that much about you at first.
Marketing's purpose is boosting business exposure and increasing sales, which is precisely why this should be a significant priority when building something from the ground up.
There are various ways you can market now, making it much easier for consumers to transact and connect with you. From Google ads to paid social media marketing, even search engine optimization strategies in order to rank higher on google – all of the above are tools you can utilize to set you apart from your competitors and ensure you come out on top.
By tackling each task separately, instead of trying to do everything simultaneously, you'll find the process much easier and more straightforward to manage. At the end of the day, you want your business to flourish, so make use of every single opportunity available to you and watch how your business takes off into infinity and beyond!
Want to grow your mailing list faster (even as a newbie).
Add these 3 critical components to your freebie to turn your followers into serious subscribers.
↠ so that you gradually grow a list of dream clients willing to hear from you and ready to buy
↠ so that you don't waste your efforts and money talking to an uninterested audience or freebie seekers
Download now my free PDF guide and learn:
– The most important exercise to attract hundreds of new subscribers every month.
– How to connect your lead magnet to the rest of your offering
– The one thing that will make it 10x more effective once people get access to your freebie.
Simply enter your details below: