Everything you should know about remote work
Guest Post – Remote Work Summit
 What's the first thing that comes to your mind when you think about the concept of working remotely. A person sitting in their sofa working whenever he/she feels like? Or a freelancer working on a part-time basis?
Well, let me prick the bubble. It's not precisely the true definition of remote work. Let's dive deeper into the subject.
If I have to explain it in a few lines, I would say working from anywhere in the world without an actual office desk and designated 9 to 5 punch in and out office culture.
You can work from your home office, in a coffee shop with a flamboyant environment, or simply from a park where you can deliver the best of your performance and don't have to spend extra time in commuting to a physical workspace every day.
The Difference Between Traditional and Remote Jobs
The sole mantra of success to any business comes from having a workforce with exceptional communication and collaboration skills, along with maintaining their work productivity. Keeping this in view, I have tried to elaborate these three touchpoints to explain the difference between the traditional and a remote work job experience:
The benefits of Remote Work can be reaped by some businesses but not by all. The reason being, employees are not self-starters. Their work needs to be checked now and then so that they complete it on time without missing deadlines.
Things happen quite differently during remote work as compared to the mainstream working style. When working in a traditional office, you are designated boring cubicles that cannot be altered, the same cafeteria or canteen, and the list goes on. But when you work remotely, you can actually handpick your workplace (or coffee shop), time schedule, along with the working hours to stay productive throughout the day.

Communication in a Remote Team:

If you're in a 9 to 5 corporate scenario, then communication is quite easy. If you had any doubt, you'll just walk up to your colleague's desk and ask away. But when you are working remotely, you absolutely cannot do such a thing.
In a remote work environment, all the communication happens in written form and mostly over a cloud-based tool. And if you do not have any designated tool, things can go really cluttered.
For instance, if you need an urgent piece of information from your manager, you are most likely to send an email. But the reply cannot be expected within a few minutes. The result? Your work gets delayed! So it becomes imperative to set clear communication guidelines when working in a remote team.
It is a myth that efficient communication cannot happen in a remote environment. But I called it a myth for a reason. With appropriate knowledge of tools, you can definitely work remotely like a pro. There are a lot of other myths associated with Remote Work.

Collaboration in a Remote Team
There are a lot of questions that come up when someone starts working remotely. For instance, "How do we collaborate while working remotely?". "How to do we conduct the virtual meetings?", "Are the collaboration tools difficult to use?" and much more!
In a traditional work environment, collaboration might be easier, but in a remote work environment, collaboration is not possible without the tools. To ensure a smooth and effective collaboration among the remote teams, one must employ the cloud-based tools. For instance, Tello for project management, Google Calendar for scheduling meetings, Dropbox for storage, Zoom for video conferencing and recording meetings, Dashlane for password management, and the list is quite long.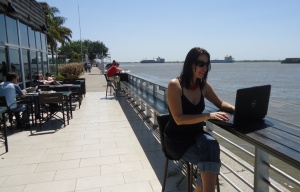 Work Productivity in a Remote Team
Remote workers seem to be more productive than a traditional office employee as they don't have to spend time in office politics, dodge their boss, counting the hours till 5 pm, etc.
Remote employees tend to feel low-stress levels as they don't spend time in commuting and can choose their own working space and time schedule.
But it doesn't mean that there will be no distractions. Remote workers have to stay self-motivated along with maintaining their productivity. It's challenging but not impossible.
Start Working Remotely Today
Remote work is not a simple or ongoing trend. It has started and will stay here until the end. It is a revolution in the work culture, and people choose it for a reason. This is because it brings in flexibility in work like never before and has a lot in store for organizations, individuals, and teams.
It has worked wonders for others and can surely work for you too. If you are passionate about the concept of remote work, then join the Remote Work Summit 2020.
Want to grow your mailing list faster (even as a newbie).
Add these 3 critical components to your freebie to turn your followers into serious subscribers.
↠ so that you gradually grow a list of dream clients willing to hear from you and ready to buy
↠ so that you don't waste your efforts and money talking to an uninterested audience or freebie seekers
Download now my free PDF guide and learn:
– The most important exercise to attract hundreds of new subscribers every month.
– How to connect your lead magnet to the rest of your offering
– The one thing that will make it 10x more effective once people get access to your freebie.
Simply enter your details below: