Michael Stelzner shares how Facebook can benefit your business
Earlier this year I participated in a online conference on Social Media organized by Michael Stelzner (that's him in the video above), he is the founder of SocialMediaExaminer.com.
I have to say this was the most useful conference I have ever attended on Social Media Marketing.
To be honest, I didn't know where to start with my social media marketing for my own consultancy business and for the translation company I work for. I knew we ought to be out there, writing a blog, using twitter, facebook and LinkedIn to generate more traffic for our website but I was suffering from information overload!
Then in May,I heard about a social media conference, I didn't hesitated a second and sign up for the conference. The great thing about it was that was  fully online, so I joined from my computer at work! As I said before, it was truly the trigger that helped me start my social media marketing campaign, I was able to get the step by step guide on how and where to start plus some great recommendations and tips from experts.
So this time round Michael Stelzner and Social Media Examiner are hosting a huge Facebook marketing conference: Facebook Success Summit.
Here's a sampling of the topics the summit will cover:
* Developing a Facebook marketing strategy
* Growing and engaging a Facebook following
* Selling with Facebook
* Community-building
* Facebook integration
Believe me, this is going to be big! I just got my tickets and this is your chance to join me and hundreds of people! This is more than just an online conference.  It's also a way for people just like you to come together, share their experiences, meet the experts and network.
At the last summit, 96 percent of attendees said they'd recommend the event to a friend AND attend again! Well I am one of them!
19 Experts to Help Us Master Facebook Marketing: Guy Kawasaki (author, Enchantment), Mari Smith (co-author, Facebook Marketing), Dave Kerpen (author, Likeable Social Media), Paul Dunay (co-author, Facebook Marketing for Dummies), Jesse Stay (author, Faceb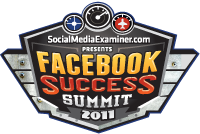 ook Application Development for Dummies), Robert Scoble (co-author, Naked Conversations), Michael Stelzner (founder, Social Media Examiner), experts from Intuit, PETCO, Applebees and Intel; Jay Baer (co-author, The Now Revolution), Chris Treadaway (co-author, Facebook Marketing), Amy Porterfield (co-author, Facebook Marketing All-In-One for Dummies) and Andrea Vahl (co-author, Facebook Marketing All-In-One for Dummies)–just to name a few.
Click on the image or link here to learn more about this amazing Facebook Success Summit.
P.S. Nineteen of the most successful Facebook marketing pros will show us how to use Facebook to market and grow our business. Remember, the experts teach the sessions live (and it's all online). So we don't need to leave our home or office! Go here to see how this works.
P.P.S. FYI, grab your ticket before the half-off early bird sale expires THURSDAY!
—————————————————————————–
Sabine Panneau
Skype: sabp23
Email: sabine@sabinefep.com
Work with Me – Marketing Team
Tired Of Waiting For The Right Job Opportunity Abroad? 
I'll show you how to make the most of your time overseas and create your own dream job anywhere in the world using an easy to follow routine that requires your own blog, the willingness to turn your passion into a business and a location independent attitude!
Click here to learn more!