Meet Kalyn, an American blogger in London
Living abroad is our staple so in a way, we can say that's the part we handle better (right? 😀). But where most wanna be online entrepreneurs are having trouble is finding a creative way to make money online. Sometimes you find someone who's got it figured out pretty well, and that's our guest for the Global Entrepreneurs Interview Series. Let me introduce you to Kalyn, an American blogger living in London. She has a very simple way of abording the subject and even teaches others to do it.
Where are you from and where are you currently located?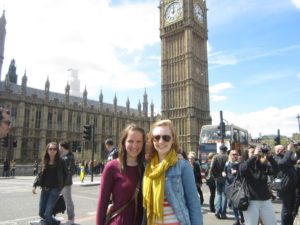 I am from Orlando, Florida and I currently live in London, England.
Tell us a little bit about you and what made you start traveling in the first place?
I had never been out of the country or even considered getting a passport until I was 19 years old (many Americans don't!) In 2012, I went on a study abroad program in London and loved the city so much that I knew it was where I needed to finish my degree.
Time went on and I kept coming back, until I eventually met my now-husband and had a good reason (and a visa!) to stay.
Tell us 3 things you love about your new lifestyle and what do you miss from your home country or your last destination.
Three things I love:
1. Having a 'home' in two completely different countries. My world is 'bigger' than it would be if I stayed in my hometown.
2. British summers are really lovely (for the most part) after being used to sweltering hot Florida ones.
3. Making friends with people from around the world.
As far as what I miss, it's definitely the over-the-top friendliness of Americans. I'm not a talkative person myself, but there's something about the American way that is initially more welcoming than I've found it to be in England.
Tell us about your current business/project – how did that come about?
I write and blog at www.girlgonelondon.com and www.kalynfranke.com.
I've had a bit of monetary success with it over the years, and I've just launched a course for bloggers on pitching to brands after I realized that I was really good at getting sponsored activities and hotel stays as a beginning blogger. The link to the course is here:
www.how-to-pitch-like-a-pro.teachable.com
As an American, was it easy to settle down in London and start your own blog?
I work a full-time job in addition to working for myself, but I would say it was actually easier as a foreigner to do this. Because many of my friends and family are still back home in America, I'm often on the internet anyway talking to them or keeping in touch and don't have as large of a network here. I use this to my advantage, as it means I've gotten really good with social media and learning to use my free time to build up my own business.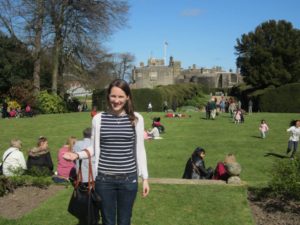 What advice would you give to anyone willing to become a digital nomad or start their own blog while living overseas?
Firstly, you have to have insane confidence in what you're going to do. People often wonder the difference between people who 'make it' and people who don't, and while there is a lot of hard work and perhaps being in the right place at the right time involved, it really all comes down to believing you'll succeed.
I believe I will succeed in what I want to do so much that when something fails, I just work around it. I don't get discouraged as easily, as I see things as roadblocks rather than stop signs.
Whether you're freelancing, blogging or running a physical business, you might find that there is plenty of competition, but you just have to find where you stand out, run with it, and never lose faith that you can accomplish what you set out to do.
——-
Thank you very much, Kalyn for this great interview and sharing your story with us.
Want to read more Global Entrepreneur Stories? Make sure to check out more Interviews here.