Meet Marc, British Expat in Switzerland
Today I'd like to share a great example of entrepreneurship while living abroad.
Marc is a British national, who accepted a job transfer to a small town in Switzerland and moved there with his wife. Let's hear from Marc on how he became a British Expat in Switzerland.
Tell us a little bit about you and what made you go abroad in the first place?
Hey Sabine, thanks for asking me to contribute to your expat interviews. I was working in the UK for an American firm by the name of Garmin. They are a large technology company specialising in GPS and satellite navigation. The company opened up a European headquarters in a town called Schaffhausen just north of Zurich in Switzerland.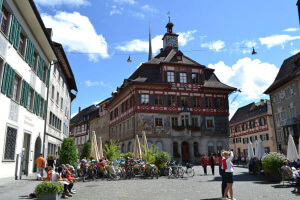 Garmin asked me to go to the new office and head up their online marketing for all of their European countries. This involved managing all the websites and the teams in all the various European cities who developed and maintained the ecommerce stores and online web content.
To be honest, it was quite an easy decision to make for my wife and I. We felt that if we didn't go to Switzerland we would always wonder "what if"? You need to experience as much as you can in life, and living in a foreign country was something I was never going to pass up.
Tell us 3 things you loved about your lifestyle in Switzerland and what did you miss about the United Kingdom?

I think that waking up in the morning and having my breakfast in the Swiss hills and being able to see the snow-peaked Alps on a hot summer's morning was something that I will never forget. My wife and I both loved the countryside and outdoor living that we did there.
Secondly the travel opportunities. Due to Switzerland's central location we would hop in the car at the weekend and drive somewhere. Whether that was into Germany, or up to mountains in Liechtenstein, there was always somewhere, and a different country we could easily go to. The best one I think would be a drive down through Switzerland, through the Alps, and down into Italy. That particular road trip was a week's holiday. You can't really do spur of the moment travel like that in the UK due to it being an island.
Thirdly would probably be the peace and quiet. Switzerland seems to also have a slower pace of life than living in England. It made a really nice change for both of us.
With regards to things we missed, I think it would be the ease of getting certain foods that we liked. For example, it was quite hard to find good quality spicy Indian food. Whilst the Swiss would tell us that the curry was going to be "sehr scharf" it never really was – not like back in the UK anyway.
Where are you currently residing? Do you have any overseas plans for the next few months/years?

We are now back in the UK which was a decision that we made after our son was born in Switzerland. We stayed out there for 2 years, but once our son arrived we felt that it would be better for us as a family to return to England to be closer to our own parents. Having a baby in a foreign country, especially when you are not an expert at the German language was not always easy so it seemed better to return home.
Having said that, we do now have plans to move abroad again with the United States being explored as a possibility. I am talking to an immigration lawyer at the moment, and I think in the next 12 months we will make a final decision on whether or not it is a good choice for us or not.
The thing about moving abroad once is that it really opens your eyes to new opportunities and gives you a thirst for travel – at least that's what has happened to us. We will have to wait and see.
While living in Switzerland, you made the decision to quit your corporate job and create a one-man online business. Was it something easy to do and did it need any adjustments?
The most difficult thing was to overcome the fear of failure. When you have always had the security of a job best part of 17 years, it's a huge leap of faith to be able to say "I can do this". The biggest adjustments I would say were being in control of my own time and schedules… and being responsible for bringing the money and clients through the door.
You started offering consulting services on SEO marketing to Expats and English-speaking companies in Switzerland? Was it your first experience as an online entrepreneur? How did that come about?
Ever since I was in my late teens I had been involved in the Internet. I think I built my first ever website in 1996. I'd always been interested in developing my own income from the work I did on the Web, but it probably wasn't until about 5 years ago that I actually started to see the full potential of generating online traffic and converting that into actual income.
My first forays into online marketing involved developing small websites that worked on the affiliate model… in other words pushing sales through to larger retailers to earn a commission payment back from them. This involved me learning all the intricacies of search engine optimisation to a really detailed level. Previously my knowledge of how search engine optimisation (SEO) worked had been okay, but in order to really make my own business succeed I had to take it to the next level.
When in Switzerland I realised that the knowledge I had built up was actually quite valuable and was something that I could offer to other people on a consultancy basis. That's what led me to starting up my own businesses, which are now firmly established in the UK. Currently I have a website offering SEO services in the UK.
What advice would you give to anyone willing to live overseas and create an online business? It is harder than in your own country?
The great thing about the Internet is that there are no physical borders, and in the main the language of the Web is English, especially when it comes to online business. For an English speaking person that definitely helps. I would say that creating an online business is a lot easier than creating a business that has a bricks and mortar presence – that's my view.
If someone has an Internet connection and a computer, a little bit of creativity, and a willingness to learn, or just a spark of an idea, then there really are no limits as to what you can achieve.
So are you location dependent now?
No not at all. The beauty of my job is that I can do it from anywhere as long as I have an Internet connection and a device. I have clients in the United States currently, and me being in the UK is no problem to them. As long as I am delivering results for them then I don't think that they care one bit.
—
Thank you very much Marc for sharing your story and giving us some great tips.
Are you also a British Expat in Switzerland? Or an Expat in another part of the world? I'd love to hear from you. Leave us a comment below.
Want to read more Expat Entrepreneur Stories? Make sure to check out my other Interviews here.