My Spotify Wrapped for Business Communities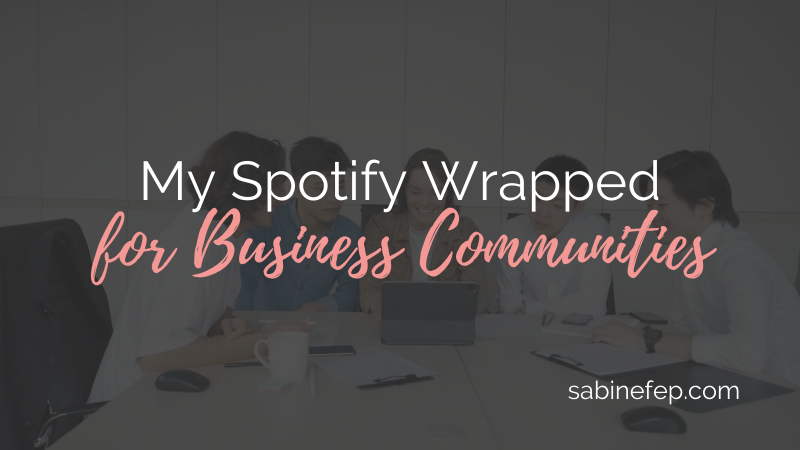 Don't you wish you could fast-forward 3 to 6 months from now your business growth?
Good news, you can!
Just like everyone on Instagram sharing their Spotify Wrapped…I thought it would be fun to share my top business communities that have been *music to my ears* this year and have greatly helped me grow my business, focus on the important task day after day, gain visibility on social media platforms and other closed groups, feel more confident than ever and most importantly earn more money than ever from working directly with clients, getting consulting gigs and mentoring business owners and their staff on all things digital marketing and email marketing more specifically.
So here's my top 3 for 2021:
First is the community I've been the longest in (joined them in February 2021).
​1 – Today Not Tomorrow (TNT) by Gemma Gilbert
​The format of this community is shifting slightly in the new year and this is the last chance to get your hands (and eyes) on some incredible resources whether your want to fast track your progress from $0 to $5k, grow your business over $5k a month or need accountability from a powerful group of entrepreneurs in the UK and the rest of the world. This has been my best investment this year! Gemma is opening her TNT membership for a one-off price of £100 (+VAT) and offering access to the complete library of resources & an exclusive student-only community. If you decide to join, use the code XMAS21 for a special 25% discount until December 10th.
Here's the link to check out TNT *– You'll find me in the community as this is truly my favourite place to hang out online, find accountability, support, and yes, even get clients!
​
---
The second one is an amazing community of business owners led by the brilliant Elizabeth Goddard.
​2- Team EGB Party Pad by Elizabeth Goddard
​I first got to know Elizabeth through her free FB group on email marketing, then bought a couple of her online courses and as a result, joined her private FB Team EGB Party Pad. She's created dozens of courses* over the years and regularly offers the opportunity for her clients and students to showcase their own expertise (and also show how they've taken actions from her courses). I've had the opportunity to participate in a few of her showcases.
Her Lizzy's Christmas Party* is the latest edition of one of her many great ideas. She invited her community to offer one goodie bag as a Xmas goody bag for free. There are over 180 products usually sold between $1 to $100 available for free for a limited time only.
Check out all the offers available here on her site, sign up by leaving your email address until the end of the day Thursday 9th December then you'll have a month to pick which ones of these 180 free offers are relevant to your business and maybe the missing piece to grow your business in 2022!
​
---
The third one is a more recent one that I discovered in Elizabeth's community.
​3 – Email Marketing Membership by Liz Wilcox​
This is a 9 DOLLAR A MONTH subscription to get email/newsletter templates delivered straight to your inbox each week. But these aren't just any templates, they come with different-business examples and video walkthroughs to make sure you actually use them. (FYI – This very email is inspired by her membership).
So simple. So effective. Do yourself a favour and check it out. She's the real deal when it comes to great content and affordability.
It's truly the best $9 I spend each month and if email marketing is important to you in the New Year (Hint – It should be!)… I really want you to check her offer out. Here's the link to find out more about EMM*.
​
---
Over to you!
What is your own Spotify Wrapped for business communities? Let me know in the comments.
Were you in any of these communities in 2021? If you haven't heard of them before and decide to check them out, you'll certainly see me in their groups or platforms as these are definitely my go-to business communities these days.
​
I hope you snag something up to help you build bigger and better in the new year.
* Disclosure: If you purchase anything from links in this article or others that I write, I may receive an affiliate commission of some kind, at no cost to you. My promise to you, as always, is to only mention products and programs that I absolutely love and would recommend whether I was being compensated or not. Thank you so much for your support. Sabine.
Want to grow your mailing list faster (even as a newbie).
Add these 3 critical components to your freebie to turn your followers into serious subscribers.
↠ so that you gradually grow a list of dream clients willing to hear from you and ready to buy
↠ so that you don't waste your efforts and money talking to an uninterested audience or freebie seekers
Download now my free PDF guide and learn:
– The most important exercise to attract hundreds of new subscribers every month.
– How to connect your lead magnet to the rest of your offering
– The one thing that will make it 10x more effective once people get access to your freebie.
Simply enter your details below: