10 Steps To Turn Your Passion Into A Business
The #1 secret to being successful online with your own business is to be passionate about it.
If you're doing it just for the money, you will get bored very easily and will lose interest when money is not coming fast enough to your liking. Whereas, if you do it with passion, money will be rolling in, and you will be successful before you know it!
Live your passion!
You've probably heard this hundred times but it cannot be more accurate when it comes to being your own boss and running an online business around the world.
My second secret is actually much linked to the first one and it is to treat your passion as a business.  You need the right mindset to become an online entrepreneur and often it is not something that comes naturally.
If for instance, creative writing, practising yoga or horse-riding  is your passion, and you decide to create a business around this, you will need to treat it as a business, which means showing up every day, taking responsibilities and being accountable for your actions as any business owner would be.
But how do you turn your passion into a business?
1 – Define your passion
Determine if there is a need on the market for this.
2 – Do you have the skills to do it alone? Or will you need professional help?
Consider outsourcing, coaching or mentoring if this is your first attempt and if you want to be successful.
3 – Are you ready to treat your passion as a business?
You will probably work harder than in any previous jobs.
4 – Start today!
Not tomorrow, next week, next year or whenever you'll feel ready.
5 – Get the online backbone of your business ready.
Create a  "You Inc" blog or website and set up your social media accounts.
6 – Plan
Prepare a business / marketing plan and organize your actions for each day of the week.
7 – Become THE expert within your community
Become the go-to person for that specific matter, both online and offline.
8 – Work on your personal brand every day
Learn about branding and concentrate on traffic generation activities, word of mouth, recommendations, etc…
9 – Test and adjust
Perform regular assessments/reviews and make necessary adjustments to your business.
10 – Celebrate every success
Make the most of your life overseas and enjoy the freedom that owning your own business brings you.
Need some inspiration to turn your passion into a business?
Check out my Global Entrepreneurs Interviews for some good examples on how to live from your passion.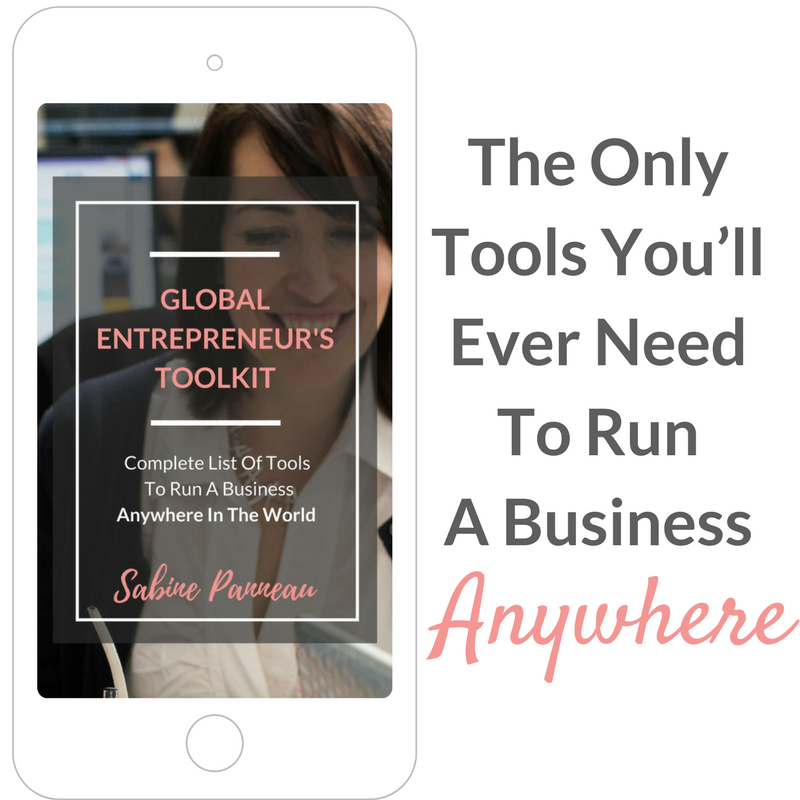 Grab your Free Global Entrepreneur's Toolkit
Overwhelmed by the number of tools available?
Do you wish there could be a shortcut to find out which one you REALLY need?
That's why I listed the 30+ Tools that I use daily to run my online business anywhere in the world.