What is your Differentiator?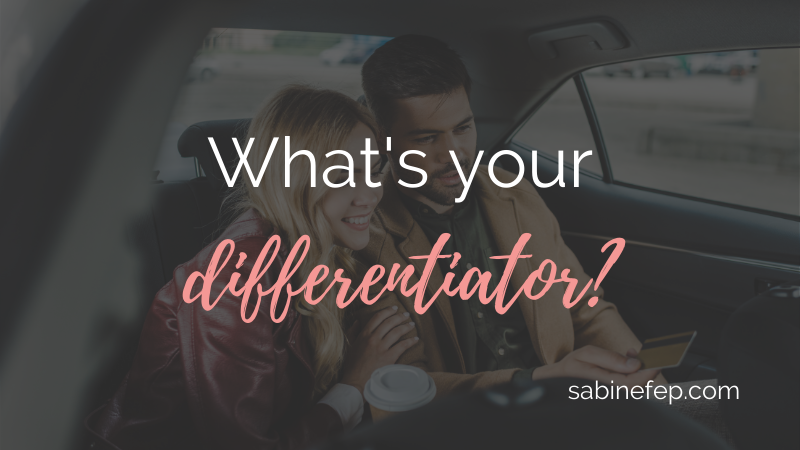 A while back I was working with a client who owns a holiday rental place in Argentina and she was struggling to get bookings online. So she got in touch with me and asked for advice. After listening to her, I asked her: "So what is your differentiator?". She wasn't really sure so we decided to do some work around this very specific aspect of her business.
I told her that in order to get more bookings, she needed to work on her online branding through the creation of a blog and also combine it with social media marketing strategies. Her first reaction was, "what am I going to write about? After all, I've only got one flat to rent out to tourists in this part of Argentina".
So I gave her this great marketing example about Differentiation that I had read about earlier.
It is the story of a taxi driver who created a very successful business with his own taxi. He was struggling to make a living as a driver and didn't like the attitude of other drivers he was competing against at the airport stand, they were grumpy and didn't care much about their look or the look of their cab.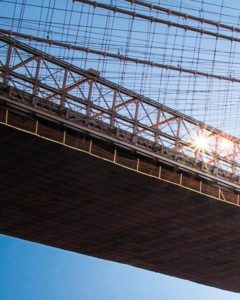 One day after hearing on the radio a talk by Wayne Dyer, a personal growth guru, he understood that if he wanted to succeed in his business, he had to differentiate himself from the others.
But what can you do when you are pretty much offering the same service as the others: to go from A to B.
First, he worked on his mission and came up with the following: To get my customers to their destination in the quickest, safest and cheapest way possible in a friendly environment.

Then he started polishing his cab inside/out every day, took pride in being well dressed all day long and gradually added little things for free to his passengers such as a coffee or a drink (having a couple of thermos of coffee (normal and decaf) and a cool bag with some cans.)
When he saw that his customers responded well, he added some more.
For instance, he would pick up some newspapers in the morning and would offer them to his passengers during their journey. He'd even let his passengers choose the radio station (handing them a little card with the name of radio stations and the music they play).
In short, he was offering limousine service in his cab.
What did it do to his business?

In his first year of implementing changes, he doubled his income of the previous year. Very soon, he had repeat customers who would book him in advance over the phone, which meant that he didn't even had to wait for customers at taxi stands anymore.
"Helpfulness has always been a differentiator" said Jay Baer, the president of online marketing consultancy Convince & Convert.
So coming back to our example in Argentina, all of Wanda's competitors are doing the same things with their holiday rental places. Very few have a website or blog, they just place ads on the same listing websites, and then continually compete with each other.
So I offered her to differentiate herself.
First, we worked together on her mission for the rental apartment and she came up with this: Our mission is to provide a first class holiday rental and to make the stay of our guests in the city as stress-free and memorable as possible.
Simple but easy to implement and keep in mind all the time.
As all of the current bookings were made online, we knew that her potential guests were online so she may as well use this space to also interact with them.
We started with the creation of a website with a blog section, which she hired me to do it for her.
I created a WordPress site with a blog and we added all the necessary information. I also created a video showing the department and uploaded it to YouTube. While I was there, I optimized her YouTube channel and included all the links back to her blog. I did the same on her Facebook account.
With her blog, I showed her step-by-step how to add new posts and where to get ideas for writing new articles so that she could start creating content for her blog.
To go back to the title – Helpfulness is her differentiator.

Virtual concierge

To differentiate herself, Wanda is helping her online visitors to get the information they are looking for. Whether it is by sharing information about the city and its main attractions, giving tips on where to eat or go for a drink or pass on the information about what's on in the theatres around town, she is recommending and advising her guests as well as other online visitors.
She is now creating lists of activities for children, for tango lovers, for water sports enthusiasts, etc. and will be offering her guests special services such as the booking of these activities or a show in town.
To take the taxi example mentioned above, she is offering concierge service to her holiday rental guests.
Of course, there is a section about booking the place itself, with descriptions, photos and a booking form but the blog is not about her but about her guests and what they could do to make their stay in the city as memorable as possible.
Do you have an online business? Are you struggling to differentiate yourself?
I would love to hear from you and find out what is working and not working for your business.
Book a free clarity call here
Want to grow your mailing list faster (if you're a new coach).
Add these 3 critical components to your freebie to turn your followers into serious subscribers.
↠ so that you gradually grow a list of dream clients willing to hear from you and ready to buy
↠ so that you don't waste your efforts and money talking to an uninterested audience or freebie seekers
Download now my free PDF guide and learn:
– The most important exercise to attract hundreds of new subscribers every month.
– How to connect your lead magnet to the rest of your offering
– The one thing that will make it 10x more effective once people get access to your freebie.
Simply enter your details below: