5 Reasons Why Being Kind Will Get Your Readers' Trust
Being kind in a business environment may not sound like the most business-like advise but more often than not, it will help you build trust in the relationship with your readers.
Trust is one of the most important reasons why people listen to you, care about what you say, follow your advice and lastly decide to either partner with you or buy from you.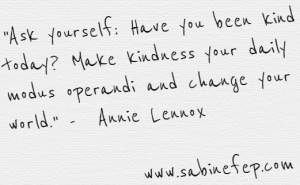 As this is such an important aspect of any business, whether it is offline or online, I thought I prepare this quick list for you.
As Location Independents, we do not have the opportunity to meet face to face with our readers/customers so we really need to build this trust relationship online.
 Being kind also means being friendly, being helpful, being honest, being generous and finally being likeable.
There are various ways to engage with your readers online, whether it is on your blog, on someone else's blog, on Social Media platforms (Facebook, Twitter, YouTube, etc…), on forums or just privately in your email correspondence.
Here are my top 5 reasons why being kind will get you further than you ever thought!
1 – If you are friendly/helpful/kind, people in return will be friendly/helpful/kind. Jump first if you want them to jump!
2 –  People will want to be part of anything you are doing, they will want to "hang around" with you. You will be remembered and your readers will come back to your blog or make sure to open your next email. Go the extra mile and your readers will walk that extra mile with you!
3 – Engage meaningfully with other online entrepreneurs in your field. Never consider them your competition. In the longer term, this relationship could turn into a partnership or an opportunity to joint-ventures on specific products or speciality.
4 – As you start getting to be known for your kindness and expertise, you will be more likely to be included or referenced in other people's blog post as you have been able to build a trust relationship with them.
5 – Get noticed by experts (or more established bloggers) in your field! This is not going to happen overnight but by leaving friendly/intelligent comments on their blogs or responding to their emails will get you noticed by them . They could become your best allies such as an opportunity to write some guest posts for their blogs or they may choose you in a marketing review, etc… Last year, I was featured for a website review on Natalie Sisson's site The Suitcase Entrepreneur. And Natalie even featured more websites as originally planned so that more people got a chance to get a review.
As you can see being likeable doesn't mean that you have to talk about yourself to be liked! It is more about listening, interacting and caring about others than desperately trying to show that you are a good person.
"It's harder to be kind than to be clever"
And as Annie Lennox asked: "Have you been kind today?"
I hope this post has been helpful! If so, please share it on favorite platform and I look forward to hearing your comments below.
—————————————————————————–
Sabine Panneau
Tired Of Waiting For The Right Job Opportunity Abroad? 
I'll show you how to make the most of your time overseas and create your own dream job anywhere in the world using an easy to follow routine that requires your own blog, the willingness to turn your passion into a business and a location independent attitude!
Click here to learn more!
Overwhelmed by the number of tools available?
Do you wish there could be a shortcut to find out which one you REALLY need?
Get my Free Global Entrepreneur's Toolkit, where I listed the 30+ Tools that I use daily to run my online business anywhere in the world.
Complete the form below to get the "Global Entrepreneur's Toolkit" sent straight to your inbox.