Every Business Needs Help: The Best Ways to Find Freelance Support Online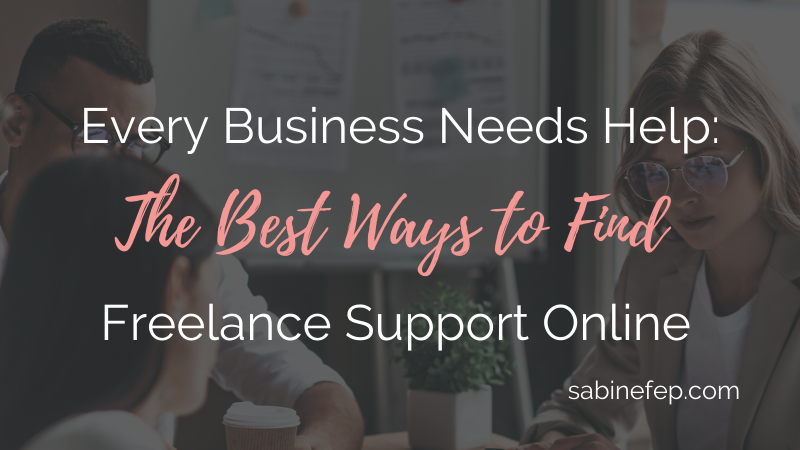 In this digital age, we became more and more connected. Doing business in 2000 and doing business 20 years later have drastically changed, even from 10 years ago. With social media and Google search, business owners have the opportunity to reach their target audience more efficiently and cannot ignore the power of the Internet when it comes to growing their business.  Not only can businesses reach new customers anywhere in the world, but new customers will also find them if they've been strategic about how they appear online and how they can be found by potential clients. This is great for everyone, especially online coaches looking to grow. Since most coaches are looking for ways to stand out from the crowd and have the edge over other coaches, most will turn to skilled workers looking to lend their expertise and services to businesses through freelance support. 
According to a survey conducted by Business Wire, around 45% of businesses stated that they rely on the aid and support of skilled freelance workers in the U.S. This is something that is projected to have a continuous affect on the workforce towards the 2030s. Statistics site Statista backs up this claim stating that around 50.9% of the total U.S. workforce will be freelancers. No matter the industry, whether media or freight trucking, more companies will continue to rely on skilled workers. 
With the internet providing a reach for businesses, freelance job sites are playing a big hand in setting up connections for finding work. It's clear to say that projections such as these will have a significant impact on the workforce of the future.
So, what are the best ways to find freelancers to help you grow and respond to a growing demand for your coaching services?
Here are a few answers: 
Freelance Sites
Freelance sites are becoming increasingly popular for businesses and freelancers alike. There are a variety of websites that cater to all types of freelancing work. For instance, Freelancer, Upwork, PeoplePerHour, and Fiverr, provide a place for skilled workers and potential employers to connect and find each other. The growth of freelance sites has been exponential in the past few years because of the ability they provide for both consumers and freelancers in connecting, often without the need for a middleman or agent. That's not my favourite option though, as it can be a hit and miss until you find the right person.
Direct approach via emails or social media
Social media platforms particularly Linkedin are a valuable way to build relationships and find new support staff (VA, video editing, tech support, podcast editors, etc..). There are many ways that you can use a more direct approach to find the right person to help you in your coaching business. For example, you can use it as a way of find expert in a specifc task, say podcast editing – you can easily find a list of people in the region you're interested and then start following them or connecting with them as a way to assess their authority in the industry. Check their testimonials, see if they publish content in their domain of expertise. Once you've identified a few skilled experts you can contact them directly and see how you could work together.
Develop Your Skills 
As an online entrepreneur, especially if you're still early in your journey, it's important to understand the areas of work you'll want to delegate (in the future) to a more experienced person. When still new as an business owner, you'll want to learn and develop your own skills in a range of areas, even outside of your own domain of expertise such as digital marketing, copywriting, email marketing, shooting videos, recording podcasts, simple designs and understand personal branding, etc.. You don't need to become an expert in any of these specific areas but I certainly recommend you to understand your own needs before hiring out. A good way of doing this is by learning as much as you can about the skills required in any of these areas and then hire out and delegate to a more experienced person when you're workload becomes to much. While learning those skills, you'll come accross many freelancers who could help you further down.
Networking
One of the best ways to find the right person to support you in your business is through networking and recommendations. The more people you know, the more you will connect with online entrepeneurs in your industry and they will have great recommendations of people they've worked with.  Do not hesitate to ask around in Facebook groups and on LinkedIn for recommendations, people love to refer to others contractors  who did a great job for them.  In addition, social media sites such as Facebook, Twitter, and Reddit have communities that offer help to fellow business owners and connect them with support workers who venture into those spaces as well.
These are just a few ways to make the most of your online resources and find the perfect freelance worker for your online business. 
Are you ready to take your coaching business to the next level?
Then book a free 30min consultation with me so that we can see if we are a good fit for the next big stage of your business.
Want to grow your mailing list faster (even as a newbie).
Add these 3 critical components to your freebie to turn your followers into serious subscribers.
↠ so that you gradually grow a list of dream clients willing to hear from you and ready to buy
↠ so that you don't waste your efforts and money talking to an uninterested audience or freebie seekers
Download now my free PDF guide and learn:
– The most important exercise to attract hundreds of new subscribers every month.
– How to connect your lead magnet to the rest of your offering
– The one thing that will make it 10x more effective once people get access to your freebie.
Simply enter your details below: