Lorraine – Expat Entrepreneur Success Story
Here is another one of my expat entrepreneur success stories!
Meet Lorraine, British Expat, in Canada
Tell us a little bit about you and what made you move to Canada?
I'm 47 years old and am married with two boys and two Newfoundland dogs. We lived in several places in England including Maidenhead and a tiny village in rural Suffolk called Wattisham. I ran my own online business from home from 1992 and started out as a Virtual Office support company before branching into website design.
We had friends that lived in Canada and had visited on vacation a few times and fell in love with the lifestyle and the idea of living on a lake. The cost of living in England was also becoming more and more expensive and job prospects for our two boys when they were older weren't looking great.
We came home from a two week vacation to Canada, having had a 'light bulb' moment of 'we could live like this' and started the process right away. It's a long and stressful process and took nearly two years from the initial application date to getting approval from the Canadian Government, despite both my husband and I working in the IT industry, which was supposedly a wanted skill in Canada. But having lived here for 8 years now it was well worth the stress.
 What were your first impressions – was it much of a culture shock?
As we had visited Canada on numerous occasions, it wasn't much of a culture shock to us. Canada is very much like England (only much bigger!). The Government system is the same and a lot of the processes are the same. We didn't even have to retake our driving test, despite driving on the other side of the road. The biggest shock is that in Canada as an immigrant they don't recognise a lot of the qualifications you get in England (or whatever country you are from), which we felt was very bizarre particularly for England as it is also a Commonwealth country.
Thankfully when you have your own company, particularly an online company, you don't need to worry about that.
Canada is full of people that come from somewhere else. It is one of the most multi-cultural countries in the world. When we took our Citizenship oath there were families from 42 different countries!
 Tell us 3 things you love about your new country.
I love the opportunities that there are for children here. Emphasis is put on music and sports as much as core subjects at school and there are clubs for every sport imaginable. England is very much a soccer (football) nation but there was never the opportunity for organised sports in England that there is in Canada. My two boys got to try lots of new sports including ice hockey, volleyball and baseball. They now both compete at a high level as Junior Golfers.
Canadians love the outdoor life and whether it's winter or summer there is something to do outside. You are never far away from a lake or a ski hill. Leisure activities are also very affordable.
Canada is a huge country and each Province is very different so there is a lot of diversity within the country and some great places to visit.
 Is this your first expatriation? If no, where else did you go? What do you enjoy about the expat life? 
This is our first and only expatriation. We have no plans to move but my boys are looking to go to school in the US so you never know!
 You are from Luton, I believe. What do you miss about the UK?
I was born in Luton, went to University in Portsmouth and lived in various different places around the UK. I miss the history that the UK has, Canada is such a new country in comparison. I miss the music from the UK also – it takes a while for some new bands to get heard over here, but Toronto is a great place to go and see live music. And then I miss the beer, Canadians think that the English only drink warm beer! So not true but they don't have any decent real ale here!
 You have created your own web design and Internet Marketing business – how did that come about? 
My University degree was in Applied Chemistry and I worked in the Scientific industry for many years. When I had my children I wanted to find a business to work from home so I started to do some work for some Pharmaceutical companies transcribing scientific conferences. This grew into starting a business to fully support new company start-ups in all fields by being their virtual office. Then this developed into designing their websites, as back in 1992 the Internet was only really starting! I have now been designing websites for over 20 years and love it. The Internet has evolved so much with Social Media now that any business has to market themselves effectively online. So Internet Marketing is just a gentle evolution from Website Design as the two go very much hand in hand!
With the core of your business being web-design and internet marketing, could you give us a couple of examples of successful activities or tips on how to get new customers?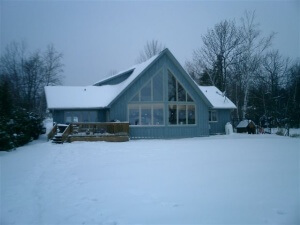 Being a website designer you are fortunate that your work brings in more work as people see sites they like and look to see who designed them. I don't do any offline advertising and I don't need to use much advertising that is paid for. The majority of my customers come from Social Media or other low cost online avenues. Today, even if businesses don't have a website they should have a Facebook or Twitter account or one of the newer Social Media outlets such as Pinterest. They are all great areas for attracting new clients.
What advice would you give to anyone willing to set up his or her own business overseas?
If you have an idea for a business, particularly an online business, I would highly recommend going for it if you are living as an ex-pat or even waiting for the approval to move overseas. Without my online business, we would have had no income for over 9 months on arriving in Canada. I had a break of about a week and then was up and running again and most of my clients didn't even realise I had moved overseas as I was able to support them fully online.
My biggest advice would be to not wait until everything is perfect to get started. Start your business and let it grow with you and don't be afraid to change tracks if needed. Website Design is a long way from Applied Chemistry but for me it was a path that felt natural with each business development. And here I am twenty years later, loving where I am and what I do!
PS: All the photos are views from my office – it's a wonder I ever get any work done – but the wi-fi does reach the boat on the dock so I have a mobile office too 🙂
Thank you very much, Lorraine for sharing your success story with us!
If you want to know more about Lorraine, check out her website and blogs:

Website:
www.maplemoonwebdesign.com
www.buildablog.co
Make sure to check out the Interview page for more Expat Entrepreneur Stories.
—————————————————————————–
Sabine Panneau
Skype: sabp23
Email: sabine@sabinefep.com
Work with Me – Marketing Team
Tired Of Waiting For The Right Job Opportunity Abroad? 
I'll show you how to make the most of your time overseas and create your own dream job anywhere in the world using an easy-to-follow routine that requires your own blog, the willingness to turn your passion into a business and a location independent attitude!