Add Gamification to your Business to get Engaged Readers
With millions of new content published every day (in all sorts of formats), our work as business owners is getting more and more complicated.
How can we stand out in this ocean of samey offers and solutions?
If you have the feeling that everyone is offering the same kind of services or are following similar paths to yours, it's time to ask yourself some big questions such as:
"How can I stand out?"
"How can I make myself more memorable to my readers and engage with them in a novice way?"
This is where gamification comes into play.
Have you heard about gamification for your marketing strategy?
Gamification is the process of using gaming elements in a non-gaming environment, for instance, in your marketing strategy.
This concept is not entirely new and has been used by many large businesses over the years, for example, a reward system for purchase (like "My Starbucks Rewards"), the tracking of your results through an app (like the fitness tracking Nike+ and Fuelband) or ranking among other users (like the Karma points on Reddit or Inbound.org) or interactive quizzes (like Buzzfeed).
And smaller businesses and entrepreneurs are starting to use it as well. It has become a new tool for marketers and business owners to steer away from the noise on social media platforms and get noticed.
Marie Forleo uses a quiz to engage with her audience and it has been very successful for her. This particular post has over 1700 likes.
Aweber has run a couple of quizzes on their website to engage with their readers too.
******
I have been wanting to experiment with a quiz on my website for some time and last month I had the opportunity to partner with Interact* – an interactive quiz builder so I have decided to create my first few quizzes.
The first one is a quiz to help my readers decide on which part of their business they need to work on and it gives them an accompanying freebie.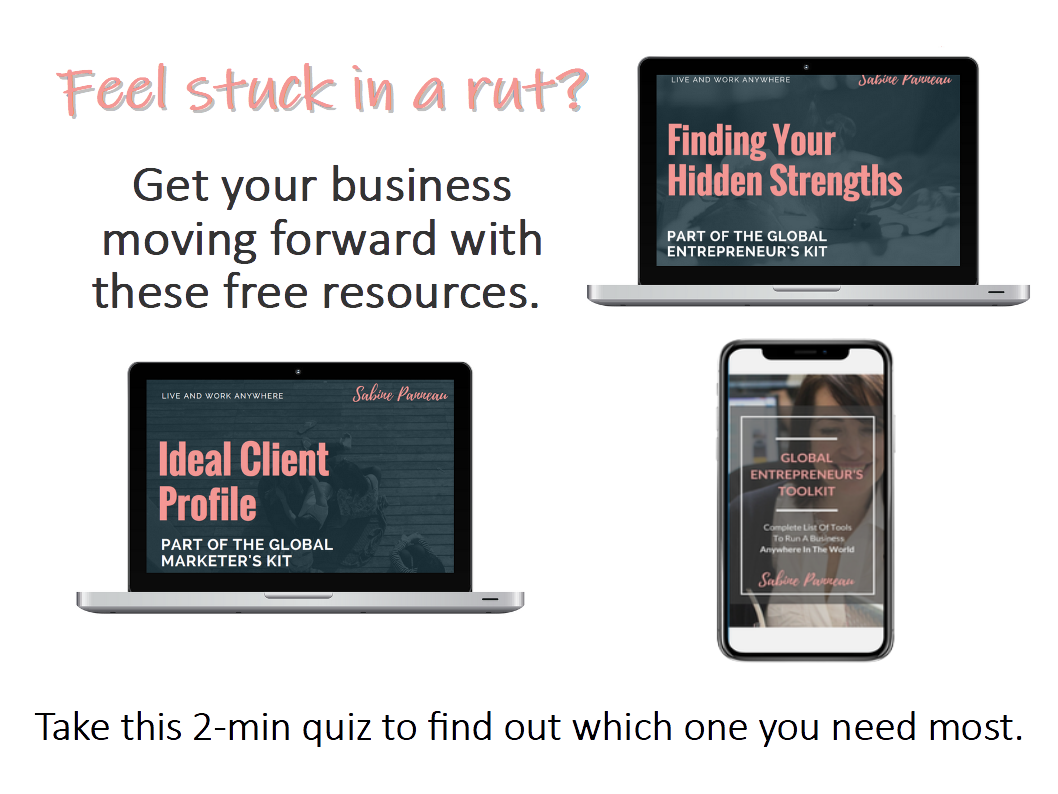 And the 2 one is a personality type assessment quiz that I use as part of my coaching program to help my clients as they are building their online business and how their personality will affect their business, it will help them engage with their audience and ultimately define their branding.
******
Now, let's see how you can also take advantage of creating quizzes for your website and how this is going to help you get more engaged readers.
First, let's look into the 3 main advantages of creating a quiz for your audience:
1 – It's fun and creates an emotional connection
It makes visiting your website fun. Whether you are asking your readers to answer questions to assess their knowledge in a specific field ( How much do you know about digital marketing?), to find out their personality type (What type of traveller are you?) or answer questions to guide them (Where in the world should you go?), you want your quiz to be fun, visually attractive and informative. If your visitors have fun on your site, they will be more likely to remember you and come back.
2 – Increase Engagement
It increases visitor engagement as your visitors are actively participating in an activity while on your website, not just reading from afar. Going through the quiz, answering the questions and reading the result pages will either educate, entertain or empower your readers. The share button at the end of the quiz will become a powerful tool to spread the word about the quiz. As you are able to collect email addresses, this tool will also become your mechanism to capture email addresses from your readers.
3 – Insight into your audience
As you readers complete the quiz, you will be able to get great insight into their struggles or maybe issues relating to their business or lifestyle, etc. and it can help you either provide personalized answers in your result page or following emails. It may even prompt you to create a brand new service responding to one of these needs.
As I mentioned above, since I am partnering with Interact*,  I am planning on creating more quizzes as I see it as a great tool that isn't overly used in our sector until now and it was actually super easy to use.
(*This is an affiliate link, which means that is the same price for you but I will get a commission if you decide to purchase one of their plans using my link – as for the all the tools that I recommend, I only do so for the one that I like.)
Are you thinking of using a quiz for your business? Let me know how you get on and if you have any questions.
Want to grow your mailing list faster (even as a newbie).
Add these 3 critical components to your freebie to turn your followers into serious subscribers.
↠ so that you gradually grow a list of dream clients willing to hear from you and ready to buy
↠ so that you don't waste your efforts and money talking to an uninterested audience or freebie seekers
Download now my free PDF guide and learn:
– The most important exercise to attract hundreds of new subscribers every month.
– How to connect your lead magnet to the rest of your offering
– The one thing that will make it 10x more effective once people get access to your freebie.
Simply enter your details below: