Meet Helena, a South African Copywriter and Digital Nomad
Helena is part of a digital nomad group on Facebook and jumped on the occasion to be interviewed on my site when I asked the members if some of them wanted to share their story with others. She has been living abroad for many years now and I am sure her story will resonate with many of you.
So Helena, where are you from?
South Africa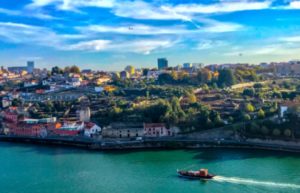 Where are you currently located?
Portugal
Tell us a little bit about you and what made you start travelling in the first place?
I was directionless after university and decided that going to South Korea to teach English would be a step in the right direction… I ended up staying for four years!
Being in Korea allowed me to travel easily throughout Asia, and that's essentially when my wanderlust began.
Tell us 3 things you love about your new lifestyle and what do you miss from your home country.
I am now my own boss, working as a freelance writer, so I am free to live anywhere, work whenever and just feel free.
I can travel or move countries whenever I like.
I can make as much or as little money as I like.
I miss my friends that I've had for 20+ years back home, the food, family, the beaches, and mountains.
Tell us about your current business – how did that come about?
Whilst teaching in Korea, I did my postgraduate in Education, as I thought I wanted to teach for the rest of my life. But when I left Korea for London, everything changed.
I taught for about three or four months and it was not what I had imagined.
I've always loved writing, so decided to look for any job in the writing or journalism industry (I have a degree in English). A company hired me, by the grace of God, as one of their copywriters and that's when I started living my dream.
After working there, I decided to contact other companies to see if they were hiring. I was offered a remote writing position, which then gave me the idea of working as a digital nomad. Since, I've taken on various remote jobs as a copywriter and social media manager, and have made awesome connections worldwide.
https://www.heyimyourwriter.com/ 
https://www.instagram.com/heyimyourwriter/  
As a foreigner, was it easy to start your own business?
Starting out was stressful, as I had not planned to do this. It was an opportunity that merely presented itself to me and I learned how to live the freelance life as I went on. Of course, sometimes you're lacking in clients or work – which is when it can be tough. But in general, no – I love what I do and I love moving countries/cities regularly! Change is good!
What advice would you give to anyone willing to become a digital nomad or set up his or her own business while living overseas?
You need to be proactive. You won't succeed if you simply wait for people to contact you. Reach out to brands/companies you love or admire – you never know what may come of it.
I have sent my resume to several companies even though they weren't hiring and wound up getting excellent work opportunities.
Make it happen!
—-
Thank you very much, Helena for this great interview and sharing your story with us.
Want to read more Global Entrepreneur Stories? Make sure to check out my other Interviews here.