Meet Natalie a Canadian relocation coach in Florida
Today's interview is a story of international moves, love and inner strength. Let me introduce you to Natalie, a Canadian Relocation Coach in Florida, USA.
 Where are you from? 
I grew up in Western Canada (Alberta and British Columbia)
Where are you currently located?
West Palm Beach FL, USA
Tell us a little bit about you and what made you start travelling in the first place?

Being born just under Alaska, my childhood was split between Alberta and British Columbia Canada. In 2008 I moved to Chicago for love. I lived there for 4 years.
I then moved to New York to start over. I lived there for 3 years.
Then I moved again for love (I think I love love lol) to Puerto Rico. 2 years there. Quite the experience!
Back to Canada for 5 months. Then now on the east coast of Florida.
Tell us 3 things you love about your new lifestyle and what do you miss from your home country.
1 – I love the access to the ocean all year round
2 – No snow 
3 – Relaxed vibe
I miss the people and my families food and fall.
 Tell us about your current business – how did that come about?

This summer I celebrated 19 years as a high end hairstylist. I've always listen and helped women with their struggles. Lots of laughs too!! I wanted to leave the beauty industry on my 20th anniversary.
For 2 years I've wanted to go online but I'm a hairstylist so didn't know what that looked like. I decided to get a mentor that would evaluate my strengths, life experience and who I wanted to help.
As we looked at everything I realized wow I could really help women that are about to or have moved far away. I made many mistakes along the way due to lack of preparation and being overwhelmed.
I completely understand how this transition feels and so I did the research, and committed myself to helping women relocate with ease and confidence. You can read more about my relocation coaching services on LinkedIn – here.
As a foreigner, was it easy to settle down and start your own business?
I still work at the salon as I'm just getting started online. My goal is to be fully location independent by July 2020.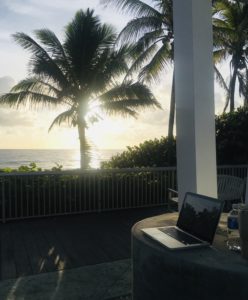 What advice would you give to anyone willing to set up their own business?

Have an incredible WHY – Think of it often
Stay focused on exactly what you want and where you want to be.
My why is my family, I will never ask another boss if I can please take 1 week vacation to visit my family in another country. Plus, I am aspiring to be ridiculously generous as I succeed. That's what I'm most looking forward to.
——
Thank you very much Natalie for sharing your experience and congratulations on having the courage to follow your heart in this new journey with your Coaching business and helping more women in their journey.
—-
Looking for Inspirations? Head over to this section of my blog to get more inspiration from women and men who decided to start their own location independent business while enjoying their life abroad.
Overwhelmed by the number of tools available?
Do you wish there could be a shortcut to find out which one you REALLY need?
Get my Free Global Entrepreneur's Toolkit, where I listed the 30+ Tools that I use daily to run my online business anywhere in the world.
Complete the form below to get the "Global Entrepreneur's Toolkit" sent straight to your inbox.