Meet Stacey, a South African Entrepreneur living in the UK
Here's another interview of a global entrepreneur who decided to start her online business while living in a new country.
Hi Stacey, Thank you very much for joining us for the Global Entrepreneur Interview Series.
Please introduce yourself and tell us where you're from.

I'm from South Africa and I currently live in London

Tell us a little bit about you and what made you start travelling in the first place?
We came to the UK in 2005 on a family holiday – I hated it! It was cold, wet, grey… but my husband loved it, and his father was born in Wales, so he wanted to come back. My parents immigrated to Australia in 2009. So we decided to travel… and got stuck!

Tell us 3 things you love about your new lifestyle and what do you miss from your home country.

Oh, there are so many!
1) there are 4 distinct seasons in the UK! I adore spring here and nothing beats a British summer.
2) the sheer scale of things here: old is much older, more people in cities, small villages really are small.
3) there is so much opportunity here. I literally feel like you can do anything you want!

I miss people – South Africans have a very unique friendliness and openness to them. It's very social and having someone surprise you by arriving at your front door is a normal occurrence! You'd always be welcome to pop in for a cup of tea!

Tell us about your current business – how did that come about?

I have run a few of my own businesses! I'm a serial entrepreneur!
I adore the start-up process of a business.


My current business is in skincare. I had hormone issues 3 years ago and wanted to find products that wouldn't add any other chemicals to my body, to balance out my hormones. I focused on changing my lifestyle, diet, etc and had to look into the products I used in my home and on my skin!
I discovered Tropic Skincare and used the products which I absolutely can not recommend enough.
When someone mentioned to me that I should sell them because I love them so much, I figured: why not!
It's flexible around my daughter and my other business interests, so it was an easy yes!

You're welcome to follow me on Instagram or Facebook. I love a good chat and am always interested in other people's stories!
www.tropicskincare.com/staceyrichard

As a foreigner, was it easy to settle down in the UK and start your own business?

Totally easy!
When you move countries you start afresh. You can start a business that you truly believe in. No one knows you yet, so you can really dive headfirst into it.
I found it was a fabulous way to make friends too!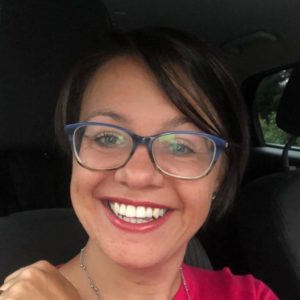 What advice would you give to anyone willing to set up their own business overseas?

GO FOR IT!
What's the worst that can happen?
Moving countries is only difficult because of the limitations you have. The same is true of starting a new business. So when you combine the two – easy peasy!
(Oh, and your accent makes you more memorable to people, so use that as a tool too!)

———————-
Thank you, Stacey, for sharing the story of how you started your own business helping other with skincare routine.
———————-
Want to read more online business success stories? Make sure to check out the other interviews here.
Want to grow your mailing list faster (even as a newbie).
Add these 3 critical components to your freebie to turn your followers into serious subscribers.
↠ so that you gradually grow a list of dream clients willing to hear from you and ready to buy
↠ so that you don't waste your efforts and money talking to an uninterested audience or freebie seekers
Download now my free PDF guide and learn:
– The most important exercise to attract hundreds of new subscribers every month.
– How to connect your lead magnet to the rest of your offering
– The one thing that will make it 10x more effective once people get access to your freebie.
Simply enter your details below: