Participating on other people's blog and website is a good way to connect with more people – whether they are would-be , future and current expats.
On my site, I've already shared many Expat Entrepreneur Success Stories to show you that there are thousands of overseas opportunities for expats.  Sometimes, all you need is some creativity and good writing skills.
I have also decided to participate in a couple of blog competitions.
Do you use Pinterest?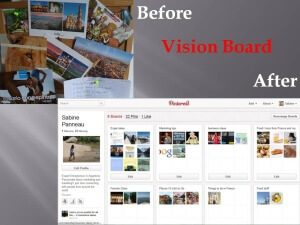 Pinterest allows you to create vision boards of images you come across online. You can choose the themes of your boards and organize them as you wish, from home design to cooking and dog's stuff, etc.  whenever you see something you like, you pin it then other can view your board and decide to follow you, like your photos or also pin the photo to their own board.
The great thing about this platform is that the images are directly linked to your website or blog. So if you are a photographer, a designer, or owner of a business that can be represented by nice pictures (pretty much anything from B&B owner, interior designer, clothing designer, yoga teacher and even online marketer), get your camera out and start shooting! Create your own boards depending on your activity and when people look for this specific activity, they'll come across your pictures, they'll pin them to their own boards and increase your exposure to their visitors. You can really get great online exposure with Pinterest.
To your success Abroad!
—————————————————————————–
Sabine Panneau
Skype: sabp23
Email: sabine@sabinefep.com
Work with Me – Marketing Team
Tired Of Waiting For The Right Job Opportunity Abroad? 
I'll show you how to make the most of your time overseas and create your own dream job anywhere in the world using an easy to follow routine that requires your own blog, the willingness to turn your passion into a business and a location independent attitude!
Click here to learn more!