3 tech upgrades to get more coaching clients
Technologies for online businesses have never been as under the spotlight as they are right now. The global pandemic forced businesses indoors, making you change the way you communicated with everyone. Instead of having in-person coaching consultations, conferences and retreats, you had to conduct all your business from your computer or phone, from booking sessions, doing the calls, and so on. 
Naturally, this was a big change for some of you, as you had never given this much thought before. Pivoting online at such short notice, meant that some of your tech decisions may not be the best after all. As you've had to adapt quickly and adopt new tools and new ways of working online, the tools that you picked served their time and it's good to look at your tech list and assess which one work for you and which one don't anymore.
I've picked 3 tech upgrades but there could be many more. Let see how you can instantly turn things around and start communicating like a pro:
Upgrade your broadband speed
Firstly, upgrade your internet as it is the key to everything you do. All manner of communication will require your internet. Thus, you can't afford to have a poor connection that makes everything lag. A better broadband speed is key so if you feel that your current internet speed isn't great, change your plan or find a different provider, there are plenty of providers that offer excellent coverage options. Really, it is sensible to invest in an internet provider in the telecom industry that offers optimal speeds and excellent coverage at all times. This will eliminate any lag you experience during video or voice calls, ensuring the quality of the sound and image is as good as possible whenever you need it. 

Switching to VoIP
Now that all of your coaching business can be conducted online, you may even be considering travelling abroad or becoming location independent while taking your business with you.  Your phone number may be published in a number of places online and offline and it would be a shame to lose calls from potential clients. A great way to make sure you'll get those calls anywhere in the world (even on the shores of an exotic Caribean island!) is to switch to VoIP (Voice over internet protocols) and keep your phone number active even if you're not in the country anymore. Instead of getting these calls on the landline or mobile phone, you'll get them via the internet. Hence, the previous point is so important! VoIP is an excellent choice as it will give you clearer phone calls with no static or interference. It means you can hear everyone and everything as clearly as possible, and the same goes for them when you speak. This improves communication as less time is spent getting people to repeat themselves. It also makes you look a lot more professional as the sound quality is amazing. 
Get a good camera and microphone
Stop using the dodgy camera and built-in microphone that comes with your laptop! Instead, invest in a decent camera that can show you in high definition. Couple this with an actual microphone for your desk and the quality of your video calls will instantly be improved. People can see you as clearly as possible, and they will hear every word with the utmost clarity. There is nothing worse than someone with a poor quality camera talking like they're stuck inside of a can! Improving your camera and mic quality will make every call infinitely better for you and your clients.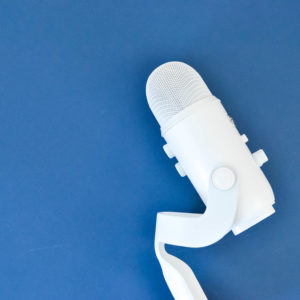 There you go; three simple steps to improve your business tech. It's not rocket science, it's all about making your communication smoother and clearer. You want everyone to hear and see you, and you need to hear or see them. Getting a good internet connection is the key to all of this, so find an excellent provider and make sure you use a wired connection for more stability. Then, switch to VoIP for phone calls and upgrade your setup for video calls. Improving your communications will make you seem more professional, while also making it easier to communicate with clients and staff. 
Are you ready to take your coaching business to the next level?
Then book a free 30min consultation with me so that we can see if we are a good fit for the next big stage of your business.
Want to grow your mailing list faster (even as a newbie).
Add these 3 critical components to your freebie to turn your followers into serious subscribers.
↠ so that you gradually grow a list of dream clients willing to hear from you and ready to buy
↠ so that you don't waste your efforts and money talking to an uninterested audience or freebie seekers
Download now my free PDF guide and learn:
– The most important exercise to attract hundreds of new subscribers every month.
– How to connect your lead magnet to the rest of your offering
– The one thing that will make it 10x more effective once people get access to your freebie.
Simply enter your details below: