Which is the best contact form for a blog?
Your Contact Me Page is an essential part of any professional blog. Once set up, it will make it easier for your readers to get in touch, it is better to have a Contact Me page with a simple form rather than publishing your email address directly on your bog.
The best contact form may look fancy but is fairly simple to create. You will often find them on the Contact Me page but you can also want to add it at the bottom of a post or to the footer of your blog.
You may want to create various contact forms depending on your use of the blog, it could be for you readers to a get in touch with you or for them to be able to make a reservation, etc…
So let's look at how you can create your own contact form for your blog.
There are 2 ways to add a contact form to your blog:
1- Template page
First, check if your blog theme has a page template for contact form, sometime they do.
You will find the form in the Page attribute as shown below.
2 – Contact Form 7 Plugin
The second option is to add a plugin to your WordPress blog. There is a selection of plugins to choose from, in order to create a form but I like to recommend Contact form 7 and I use it for all of my blogs and also my clients' blogs.
Go to Plugins —> Add new
and then enter " contact form 7″ in the search  box, Contact Form 7 will be the first one to appear.
Once you have it installed, you need to create a new form.
The great thing about this plugin is that it allows you to create as many contact forms as you wish (all with different format and fields).
You will find the form on the vertical menu on the left handside under the name Contact.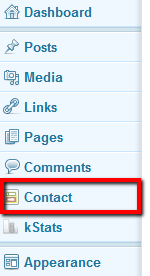 Once you click on Add new, it will automatically generate a basic contact form (with email, name, subject, message and a send button).
I would recommend you to use that basic form, then maybe add or remove fields as necessarily and then click save.
Once saved, it will generate a code that you will need to paste on your blog.
The final step will be to create a new page for your blog, name it "Contact Me" and then paste the code in the main body of the page.
Just add a quick introduction and hit publish. (You may want to disable the comments on that page, that's up to you) and there you have a Contact Me Page such as this one.
The great thing about Contact Form 7 is that you will be ale to  make changes to the original form without having to paste the code again. The form will be updated automatically.
Any other questions about creating the best contact form for your blog? Just let me know below!
—————————————————————————–
Sabine Panneau
Skype: sabp23
Email: sabine@sabinefep.com
Work with Me – Marketing Team
Tired Of Waiting For The Right Job Opportunity Abroad? 
I'll show you how to make the most of your time overseas and create your own dream job anywhere in the world using an easy to follow routine that requires your own blog, the willingness to turn your passion into a business and a location independent attitude!
Click here to learn more!