Meet Cynthia, a Canadian wine entrepreneur in Paris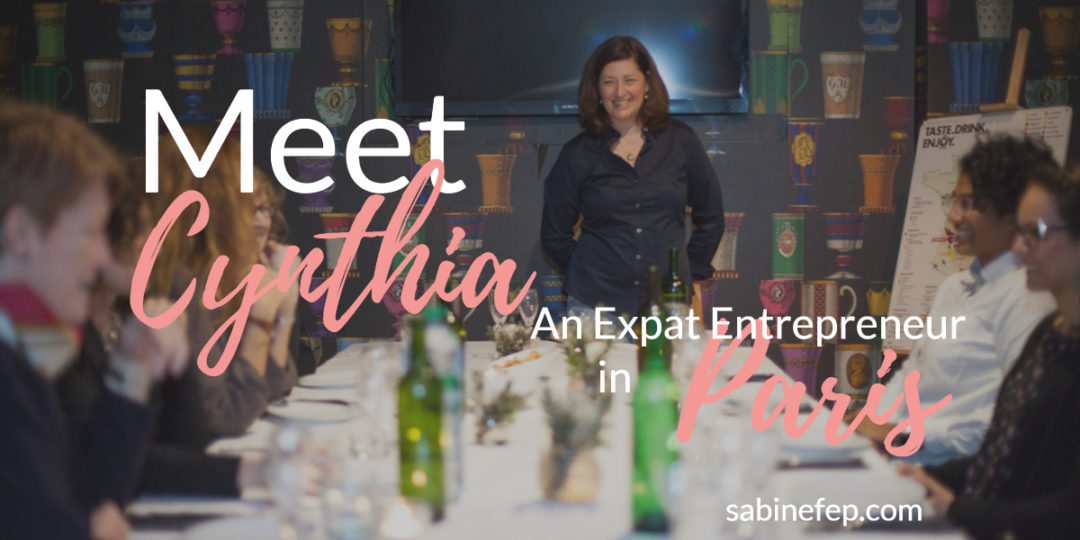 Today's interview is a story of long term expatriation, following your passions, women in wine stories and determination. Let me introduce you to Cynthia an Expat Entrepreneur in Paris.
Where are you from? 
I am from Canada and came to France as a student 28 years ago.
Where are you currently located?
Paris, France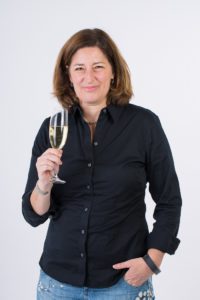 Tell us a little bit about you and what made you start travelling in the first place?

I have a couple of nicknames: Curious George, Cynthiana Jones, Champagne Lady. Have always loved to travel. Love discovering new people and places. I have been camping in the Serengenti, trekking in Nepal, sea kayaking in Borneo, and the list goes on.
Tell us 3 things you love about your new lifestyle and what do you miss from your home country.

I worked in digital communications for 20 years, mostly for an international organisation in Paris. I was like a caged animal, chained to my desk. Was always "on". Had to deal with a lot of politics. I set up my own company in Paris 2 years ago. It is called Delectabulles. I am now a champagne instructor, judge, guide. I love sharing my knowledge, meeting curious people, supporting women in a male-dominated industry, skipping in the vineyards.
Only thing I miss about the old job is the handsome pay check and a few great colleagues, but I stay in touch with them.
Tell us about your current business – how did that come about?

A few days before my 50th birthday. I was informed that my position managing the website of an international organisation was going to be cut. Leaving the organisation was a blessing, not even in disguise. I felt like a prisoner who had just been set free from a golden cage.
For the next chapter in my life story, I wanted to do something that made my heart sing. Wine was my passion. I knew a lot about it, but I didn't have a document to prove it. I signed up for the Wine and Spirits Education Trust (WSET) program to become a certified wine professional. The more I ventured into the professional wine world, the more I realized how male-dominated it was.
When I judged wine contests, trying to find another woman in the room sometimes felt like looking for Waldo. Ditto when I attended professional wine fairs. I started to seek out women wine professionals.
One female winemaker from Burgundy told me that men and women didn't behave the same way during tastings. She explained that men tended to be more interested in technical information, like methods of vinification and percentage of grape varieties, and that they liked to use their knowledge as power. She laughed and confided that some men even liked to mansplain how she made her own wines. She also mentioned that women were either intimidated or bored by technical information.
That gave me an idea.
I wondered what would happen if I did women-only tastings?
While I was becoming a certified wine professional, I was also teaching an international MBA class at a university in Paris. During breaks, the young women in my class would pick my brain about life, work, relationships.
I realized they wanted to be mentored. I was also meeting a lot of older successful women who were sitting on mountains of knowledge and experience they wanted to share. They had been there, done that, saw the movie and got the T-shirt.
I connected all the dots and created Delectabulles, a champagne networking club for women so that women could connect while sipping a glass of bubbly. I also made the conscious decision to only use champagnes made by women. It was my small contribution to supporting women in a male-dominated industry.
Learning about wine is a very humbling experience. The more you learn, the more you realize there is to learn. It touches upon history, geography, geology, chemistry, legislation, culture, etc. I decided to specialize in champagne and other sparkling wines for a long list of reasons.
The main reason being that women played a critical role in the history of champagne. Mesdames Clicquot, Pommery, Bollinger, for example, profoundly changed the way champagne was produced and marketed. Women continue to play an important role today. The CEO of Krug is a woman, so is the cellar master of Jacquart, and the list goes on. I love telling the stories about the fearless women behind the bottles.
Shortly after creating Delectabulles, I realized that the women attending my events could tell me if they preferred champagne x or champagne y, but they didn't know why. I decided to teach Champagne Masterclasses for Women. I wanted to give women the tools to better understand what they liked and why, which factors affect aromas, quality and price. How to get the best bang for their buck was particularly important considering that 75-85% of wine is purchased by women. The women attending the classes confirmed they preferred a women-only learning environment. They felt "safe" asking questions. They also felt empowered, especially those who opened their first bottle by themselves.
At the end of my first year, Delectabulles was voted "Best Wine Tasting in Paris" by readers of Expatriates Magazine. I was up against some very big names and received 85% of the votes. I suspect it is because women love to support other women. I know I do! I partner with female entrepreneurs for all of my tasting events (e.g. Yoga and Champagne, Chocolate and Champagne, Shoes and Champagne, Cheese and Champagne, Bubbles and Bras) I also now take women on off-the-beaten path day trips to the Champagne region.
And of course, we only visit estates where women play a key role. I am just about to finish my second year. I was just nominated as "Best Wine Instructor in Paris" by readers of Expatriates Magazine, and I just won "Best Wine Experience in Paris", 2020 Travel and Hospitality Awards. I joke that I "empower women one bottle of champagne at a time".
Website: www.delectabulles.com
Facebook: www.facebook.com/delectabulles
Instagram: www.instagram.com/delectabulles

As a foreigner, was it easy to settle down in your Paris and start your own business?
I came to France as a student 28 years ago. It was very easy for me to fit in because I was perfectly bilingual, and had attended a French (from France) private school back in Canada. I had the same formal education as French people. After my Masters I got a job at the Canadian Embassy. Very easy to fit in there too! Then I worked for an international organisation. I had semi diplomatic status so life was easy. Different story when I left and started my own business. French administration is a nightmare!
What advice would you give to anyone willing to set up their own business overseas?

Make sure you are prepared to jump through lots of administrative hoops. Read up on all the requirements (visas, health insurance, taxes, etc.). Make sure you have a nice financial nest egg because it will take longer than you think to get settled and be able to work.
——
Thank you very much Cynthia for sharing your experience and congratulations on having found a new purpose in life. And most importantly on having created a brand new business from your passion and made it your mission to empower and connect women. I am in complete admiration of your journey.
—-
Looking for Inspirations? Head over to this section of my blog to get more inspiration from women and men who decided to start their own location independent business while enjoying their life abroad.
Overwhelmed by the number of tools available?
Do you wish there could be a shortcut to find out which one you REALLY need?
Get my Free Global Entrepreneur's Toolkit, where I listed the 30+ Tools that I use daily to run my online business anywhere in the world.
Complete the form below to get the "Global Entrepreneur's Toolkit" sent straight to your inbox.