Meet Lisa a Social Media Consultant currently in Bali
Let me introduce you to Lisa!
We met online on a Facebook group for Female Digital Nomads and I noticed her when she gave some advice on Instagram. Lisa has been travelling and living abroad for many years and is now a true digital nomad.
I thought that her experience working online as a travel blogger dealing with brands and now teaching about social media was very interesting so I invited her to share her story on my blog.
Where are you from? 
I was born and raised in Aurland, a small village by the fjords of Norway. I've grown up watching tourists come and go, awing at the natural beauty of the fjords. This inspired my passion for travelling, but also the name of my travel blog; Fjords and Beaches.
Where are you currently located?
I'm located in Bali until early April when I'll be heading to Australia for a couple of months. After spending the winter at home in Norway I am in need of some serious sun.
Tell us a little bit about you and what made you start travelling in the first place?
As mentioned, growing up in such a popular tourist destination really opened my eyes to the possibilities of travel. At 17 I moved to Wales as an exchange student, and from then I couldn't get enough of life abroad! I moved to London to get my degree, and then to Florida to spend a year working as a Cast Member in Disney World. The whole time I was working hard with my travel blog, dreaming of a life where it took me across the world!
Tell us 3 things you love about your new lifestyle and what do you miss from your home country.
I am loving the freedom of this lifestyle, especially the fact that I wake up every morning, and every Monday specifically, super excited to seize the day and get to work. I love the fact that I can travel whenever and wherever I go because my job can always come with me. I am also super grateful for all the amazing opportunities I am getting along the way, and that I can share them with my followers.
What I miss most about Norway is, naturally, my family and friends 🙂 Luckily there's always Skype and FaceTime!
Tell us about your current projects – how did that come about?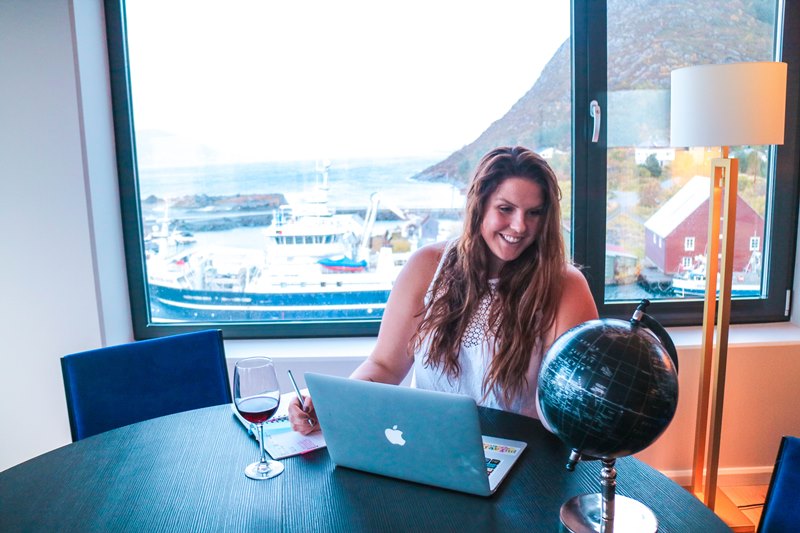 As mentioned, I run the travel blog Fjords and Beaches (www.fjordsandbeaches.com), and this is the main side of my business. I travel the world, negotiating collaborations with brands and hotels, and make sure I work my ass off to create killer content for them.
The other side of my business is social media consulting and teaching. I help bloggers and business owners rock their social media, and I also teach an Instagram course for those looking to grow their Instagram. In the course, I teach my step-by-step system that helped me grow my Instagram to over 25k followers (bit.ly/InstagramMagicCourse).
As a foreigner, was it easy to settle down in your current location and start your own business / or work remotely?
I had been waiting and dreaming of Bali for so long, and done some serious stalking of digital nomads that were already there through the winter, so it felt pretty easy. I knew exactly which coworking space to join, which gym I wanted to sign up for, and where I was staying. Canggu, the town, is also known for having a great community of digital nomads, which I was also aware of 🙂
What advice would you give to anyone willing to become a digital nomad or set up his or her own business overseas?   
If you are dreaming of becoming a full-time digital nomad, my #1 advice is to OWN IT! Seriously. I spent years telling people half-jokingly that running my travel blog full time "would be a dream", but I never really owned it. It wasn't until I realized that if this was something I really wanted that I had to work for it that I was able to make massive shifts in my life.
Once I decided that this was not only my dream, but my goal (around May 2017), I was able to make a plan, work extremely hard, and hand in my notice at my 9-5! Now, in early 2018, I am officially a full-time travel blogger and digital nomad, and I couldn't be happier!
If anyone has any questions, I'd love to connect! You can find me on Instagram (www.instagram.com/fjordsandbeaches), or join my mailing list, where I am hosting a FREE Instagram growth challenge to supercharge your growth (bit.ly/InstaMagicChallenge). Once you're on my mailing list you can easily hit reply to any email and shoot me with any questions you may have 🙂
—-
Thank you very much, Lisa for sharing your story with us. I've had the pleasure of taking one of Lisa's course on Instagram – read my review of her course here.
Want to read more Global Entrepreneur Stories? Make sure to check out my other Interviews here.
Grab your Free Global Entrepreneur's Toolkit
Overwhelmed by the number of tools available?
Do you wish there could be a shortcut to find out which one you REALLY need?
That's why I listed the 30+ Tools that I use daily to run my online business anywhere in the world.