If like me, you are trying to attract clients and customers through Facebook and Twitter, but you are not seeing the results you wished for. You are looking for some help, your business is slow at the moment and you would like to get some guidance.
Well there's an upcoming online conference just for us!!!!
I know that many people and companies are getting amazing results this way and I don't want to be left out.
In May, I'll be attending  the Social Media Success Summit 2011—an online event designed to help marketers and business owners quickly achieve social media success.
Twenty-four of the world's most respected social media experts have come together to share their newest strategies. They'll reveal all the latest techniques and proven business-building tactics you need to know to immediately benefit from social media.
If you (like so many) find yourself confused by all the social media options, now's your chance to lay down tracks for social media success.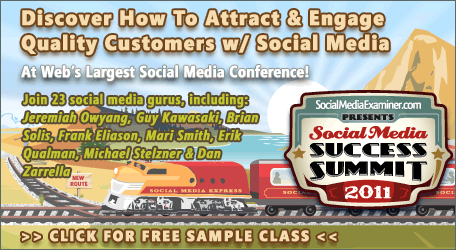 Be sure to secure your spot in the largest online professional development conference for marketers seeking to master social media.
I'll keep you updated on this conference and will share my feedback and learnings with you!
Here's to a bright future together!