3 things you can do today to cure you and multiply your communication efforts.
Social Media Marketing is still new that there are many people not doing it right. Every day, I see dozens of examples of social media gone wrong. From a Facebook personal account used by a company or a LinkedIn account with the name of the company instead of the actual contact name, which defeat the whole point of LinkedIn. Worst of all, even so-called experts are doing it – yesterday I saw a local social media agency using a LinkedIn account with the name of their company as first name and last name – spelling mistake included!!!)
If you search online, you will find tons of "how to" guide on social media but how do you know if it is right for your business?
By the time you read them and implement their advice, how do you know that they are not already out of date?
However, there is ONE thing that is not going to change and it is what you communicate to your audience, no matter the platform!
To do this correctly, you will want to apply the 3 points below:
 1 – Create your own blog and make it the "go-to" source of information on the subjects you are most passionate about.
Social Media platforms should not be used to develop new ideas but are the vehicle of those ideas.  As Twitter defines itself, it is an information network and not a social network.  Although conversation is still happening on Twitter, it has now become a place to share your ideas meanwhile the conversation has shifted to Facebook!
Your own personal or professional blog is the place to:
– develop ideas
– Start conversations with the readers who comment on your blog posts
– explore new concepts
– throw crazy ideas or not-so-crazy ideas
– answer the questions asked by your readers
– offer solutions to your readers to alleviate their problems/worries or pains
– bring pleasure and hope to your readers
– recommend your own or other people's products or services.
In a nutshell, it will be a place that you fully own and manage.
Top Tip: A self-hosted WordPress blog is the ideal blogging platform for your own blog. If you're not sure what I am referring to, read my notes here on how to get started online
However to be able to totally own it and manage it, you will need an action plan for your business.
2 – Plan and keep track of your daily activities
Failing to plan is planning to fail, they say. Well, I don't like using cliché but this is true and even more so with blogging and using social media.
This is where the new shiny object syndrome comes into play.  It affects us all, whether we are new online or a seasoned online business owner.  The strongest cure for this is planning. We are all tempted to try new social platforms, especially if all our friends are talking about.
As mentioned in a previous post on productivity, I strongly recommend that you plan all your marketing actions before each day and even better at the beginning of each week.
Let me give my own example: it took me nearly a month to formulate my own schedule as I had to try and see what worked best for me.
I have divided my week into 6 main areas of work:
– Weekends: Generate creative ideas (creating videos, brainstorming on titles and drafting blog posts with 4/5 bullet points no more)
–  Monday: work on my blog – writing posts, adding new elements/videos or pages
– Tuesday: connect with people on forums – sharing my latest post and general commenting
– Wednesdays: write articles
– Thursday: prepare status updates for Facebook and the other platforms that are relevant to my audience
– Friday: prepare my email updates/newsletters.
This way, I don't get side tracked by shiny new objects (whether it is a new social media, a new marketing system or a new guru) on the days when I am not meant to spend time on it. It still isn't perfect as sometimes I have to skip a day due to unforeseen activities but I always try to make it up the following day.
There is no better way to illustrate this than to show you my own weekly planning, see below the screenshot of my desktop.

Top tip: Once you've created your weekly planning schedule, stick it to your wall or better place it as the background image on your desktop, that way, every day, you'll know exactly what you will need to be doing.
  3 – Make advantage of online tools to help you communicate better and more efficiently.
So my first advice is to concentrate on the minimum number of platforms to avoid confusion. Another risk of the new shiny object syndrome is to create an account for every social media out there and then fail to keep them active. Rest assured that very soon, you'll feel overwhelmed by it all! So choose one or two platforms where your are the most likely to find people interested in your blog.
My second advice is to use an online tool to help you plan your communication ahead. This way, you won't need to spend a lot of time on social media each day. For this, there are many online tools such as Hootsuite, Tweetdeck or Seesmic that you can use to share your blog posts and communicate to your followers and readers.
But again, I don't want to give you more stuff to get sidetracked with so I will only concentrate on just one tool here.
It's called Buffer and it defines itself as a smarter way to share on Social Media.  Buffer makes it super easy to share any link or page that you've just read. In essence, what it does is to place your updates/links in a queue and they will be published on the corresponding social media platform at a set time. You choose the timings, the platforms and the order of appearance.
For instance if you want to tweet 4 times a day (as shown on the image below) and send 2 status updates on Facebook  you can set the timings of each postings, you decide on which days of the week they will go out.
Then, all you will have to do is to start adding new posts/statues/links to the queue whenever you find something interesting you want to share. It also comes with some useful apps which means that within Facebook, you will be able to use buffer to add to the queue  using the traditional share button (see image below).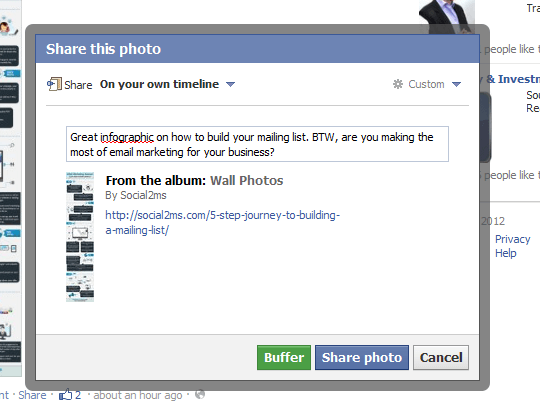 The great thing about buffer is that you can prepare all your week's updates in advance for each of the 3 following social platforms – Facebook, Twitter and LinkedIn. If you want to add more accounts, you can always sign up to their premium offer.
——
So, do you feel like that you can cure your new shiny object syndrome?
What is your current biggest obstacle with social networks? Need some help?
Please comment below.
—————————————————————————–
Sabine Panneau
Skype: sabp23
Email: sabine@sabinefep.com
Work with Me – Marketing Team
Tired Of Waiting For The Right Job Opportunity Abroad? 
I'll show you how to make the most of your time overseas and create your own dream job anywhere in the world using an easy to follow routine that requires your own blog, the willingness to turn your passion into a business and a location independent attitude!
Click here to learn more!