Working On The Go – Tips On Working On Your Online Business While Travelling
Here are my findings after a week working on the go on my online business.
I am currently travelling in the United States for a couple of weeks and I've decided to share with you my experience of working on the go.
After spending few days in Minneapolis, where I attended a great marketing workshop and networked with fellow bloggers and marketers, I am spending some time in Miami, Florida to enjoy the sunny beaches, relax and work on my futures programmes and courses.
As  I am travelling on my own and I am staying there for over 10 days, I have plenty of time to relax and still do some work on my business.  I even booked some online coaching/training sessions with a new client.
Although I can work anywhere in the world and have been doing so for the last year and a half, I have always taken a break from my business when I travelled around South America or back to Europe to see my family. So this time, I have decided to work on the go and see how practical it really is.
So here are some of my findings of working on the go and my recommendations to you to be able to work while travelling:
Reliable internet connection – It doesn't have to be the fastest connection but it has to be a good and reliable connection that doesn't let you hang out during a Skype call, etc. I have to say that it can be harder than you think even in the United States, most airports have paid Wifi but then some unusual places have free Wifi such as Miami public buses.

Power outlets – Even though you may have a long life battery, eventually you'll need to charge your tablet or laptop's batteries. Thankfully, most airports have power sockets in their terminals but not all of them so make sure to charge it up whenever you have the opportunity. Some airlines have power outlets on each row of their airplanes which can be very convenient on long-haul flights. If working from coffee place, you'll need to find a comfortable place near a power outlet.

Adequate working environment – Although it may look good for your social media, working by the side of a busy pool or on a windy day at the beach ARE not really doable. And between busy coffee places, noisy bars or public parks without Wifi, it may not be that simple to find the right place to work in a public place. If I want to seriously work on my business, I need to consider coworking spaces.
Netbook or tablet with an external keyboard –  Although I also use my smartphone to work, I mainly use it to check and reply to emails or browse the internet. As soon as I try to organize myself, plan my social media activities or write a blog post, I cannot do it on my smartphone. I also feel the need to use a full-size keyboard, so that's why I recently bought a netbook. I guess an Ipad with an external keyboard would do the same.
Remote Files Access – Whether you use Dropbox, Google Files or Windows OneDrive, you will be able to work remotely on your original files, without taking up space on your laptop's drive and without having to update your files on your return.

Planning – Working on the go without too much planning can be done for a couple of days but after a while, if you want to stay productive and efficient, you will need to organize yourself and plan a little bit your activities just like you would do while working from your usual environment.
So after 10 days working on the go, I really admire those travel bloggers who are able to keep blogging anywhere in the world for months on end.  Even though thanks to my online business, I am a location independent professional and can work pretty much anywhere in the world, I am still very dependent on my standardized working environment (a desk, a quiet room, a decent size laptop or tablet with keyboard, my notes and planning schedule). Maybe I could get used to working on the go if I had to but at the moment, I prefer a traditional office setting.
What about you? Do you often work on the go? Do you find it easy or hard? Would you like to share your experience or some of your tips to make it easier? Please leave your comments in the comment box below.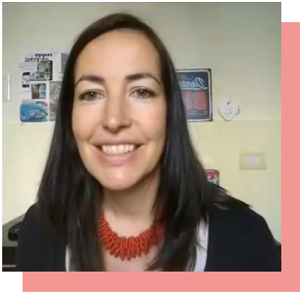 Tired Of Waiting For The Right Job Opportunity Abroad? I'll show you how to make the most of your time overseas and create your own dream job anywhere in the world using an easy-to-follow routine that requires your own web, the willingness to turn your passion into a business and a location independent mindset!