Today's interview is a story of entrepreneurship, determination, creativity and making meaningful connections.  Let me introduce you to Marike, a business owner...
read more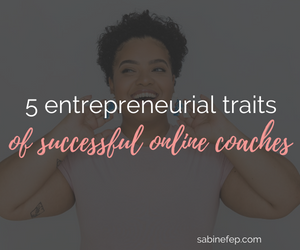 Running a thriving coaching business can be challenging. You are your own boss, handle more than one job, and wear many hats. However, the rewards of being the...
read more
In the context of the coaching industry, a Proof of Concept (POC) is an exercise to test a new idea/concept, a new direction with your coaching services or a new...
read more
Whether you run your coaching business in person or online or in any of the hybrid versions in-between, the growth of your practice will primarily depend on your...
read more
 Every single business leader out there wants to do everything possible to ensure that their business is one that will thrive. For this to work, you need to reach...
read more
Offering a range of payment options can help to increase sales. Certain payment methods may be more convenient for certain clients - you're more likely to convert...
read more
 All online businesses are at risk of cybersecurity and other threats. There is a common misconception that small online businesses might be too small for a...
read more
Becoming an online entrepreneur is not something that happens overnight. Those most likely to make it happen in the shortest amount of time and with greater...
read more
Today's interview is an interesting mix of European lifestyle, love story, and being brave to take action. Let me introduce you to Miriam, an Irish Entrepreneur...
read more
When you set up a new online business it can be really exciting especially when you make your first sale and can just imagine things growing and taking off....
read more