5 ways to find your dream job overseas on LinkedIn
 Last updated –  2023

LinkedIn – The B2B GoldMine and 1st Profesional Networking Platform
The adage "It isn't what you know but who you know" is true anywhere in the world and can certainly help you get that dream job overseas. Some people are lucky enough to have an employer willing to relocate them, that way they are getting experience abroad without having to find a new job. If it isn't your case, then the following is for you.
In my opinion, LinkedIn in 2023 is still (I've been saying it for quite a few years now!) the best place to grow your network, connect with potential employers, look for a job and position yourself in your industry. Even Gary V thinks every business should be on LinkedIn!
There are many ways to grow your network and meet new people online. But with over 900 million users worldwide, LinkedIn is the web's largest and most powerful network of professionals and there are many ways to take advantage of this platform to find a job overseas or find new clients.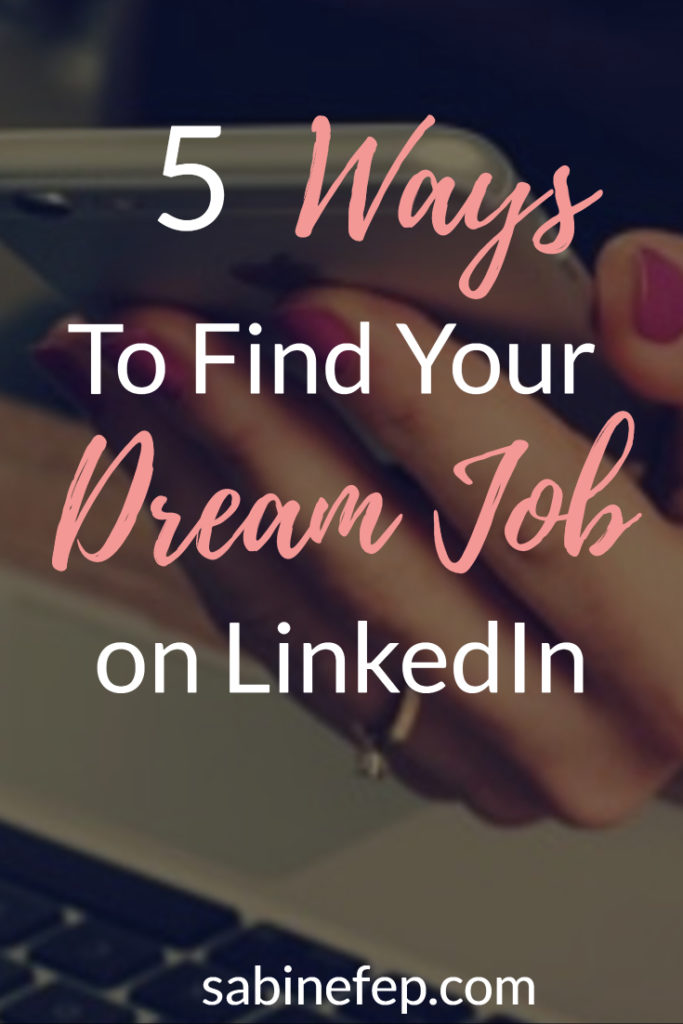 I am going to show you five ways you can use LinkedIn to your advantage to get a job or find clients anywhere in the world.
But first of all, you will need to create a LinkedIn account (it's free) in order to add your own details.
Very much like a CV, your LinkedIn account will have a profile page detailing your professional experience, current and past positions, your education as well as other sections such as summary, skills, languages, recommendations, etc…
But unlike a paper CV, your profile will be indexed on the platform so always remember to use relevant keywords throughout your profile on LinkedIn in order to optimize search results within the site and with external search engines.
How do you know which keyword to use? Answer this simple question: "what do you want to be found for? " 
Make it easy for prospective employers and potential clients to find you!
Once you have added the main elements to your profile, I would recommend you to check the add profile section on the left and see what else you can add to your profile.
Once you have the backbone of your profile, let's look at 5 ways you can use LinkedIn to find your dream job or dream clients anywhere in the world:
1 – Choose your profile headline wisely and create a clear banner for the image above your account
Your headline is probably one of the most overlooked features on LinkedIn. Many people don't bother much with it and just put " Financial Advisor at XXX", "VP Marketing @ XXXX" or just "Travel Blogger". The headline is your chance to differentiate yourself on the platform. It should not be about you but about what you can do for others (either your clients or potential employers)
Here are some good examples of headlines:

This is also what I am using on my profile.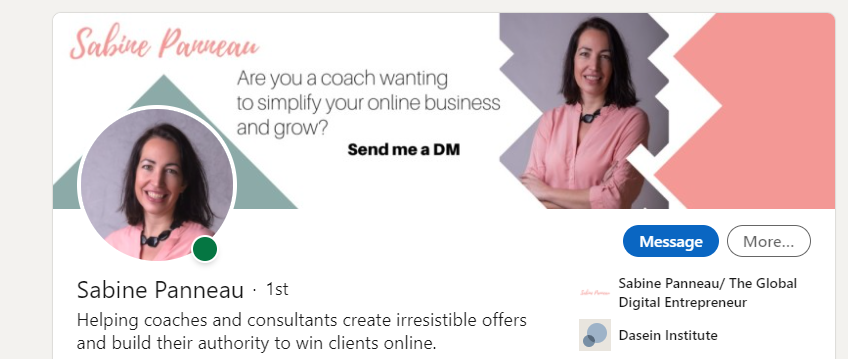 The headline will make you stand out in search results and when you're active on the platform – whether it is leaving a message on someone else's post or on an article.
The banner on top of your account will be an additional piece of information helping you build your authority on the platform whenever someone visits your profile. I created this simple visual using Canva – It's free and there are dozens of pre-made LinkedIn banners ready to be updated with your details, keywords and pictures.
2 – Make connections with your dream clients, HR professionals in your dream industry, or in the country you wish to establish yourself.
It may sound obvious but if you are actively looking for a job, thinking of starting an online business or starting a new life overseas, the best way to achieve this is to connect with hundreds of professionals in that industry or country.
LinkedIn is a network and the more people you connect with the quicker you'll reach your goals and achieve your dream working life.
It used to be the case that it was recommended to personalise the message (add a note) to your connection request but it's never really been proven that it increased your chances of getting accepted by the other person. So nowadays I simply send the request connection as it is.

Once you have made your first connections from your previous work experience, former colleagues, connections from school or any other types of projects, you will want to start building a wider network of like-minded people around the world. The best way to do it is by using the search tools right on LinkedIn.
One word of caution, you don't want to send too many connection requests per day as LinkedIn may think you're using a bot or some software to automatically send requests. I usually recommend sending between 10 to 30 requests per day. Once you'll get more active on the platform, you'll find that people will start sending you requests so you'll be growing at a good speed after a while.
Whether you want to connect with professional photographers in Chile, marketing consultants in Singapore, translators in Finland or other professionals in your industry, you will be able to find people all around the world.
The whole point of growing your network is to reach a wider audience when you'll start posting content on your profile and also to discover more opportunities that your contacts will be posting on their own profile.
3 – Get 10 + recommendations from former colleagues and past clients (even in different industries/areas of work)
Before sending request connections to potential clients or employers, I would advise you to ask for recommendations from your current and past employers, colleagues, clients, and suppliers; this way your profile will have more impact on future connections.
The best way to get recommendations is to give recommendations first. This way whoever you just gave an unsolicited recommendation will feel more inclined to return the favour.


4 – Follow companies and contact directly their key decision-makers
As well as making connections with individuals, you will be able to follow the news updates of thousands of companies around the world. When you look at a company profile, you will be able to find out if you have any first, 2nd or third-degree connections with any of its staff members. If you haven't got any, try to join some groups where you will be likely to find them, as it is easier to add a connection with someone who is in the same group as you. You will also want to click on Follow Company to receive their news updates straight onto your LinkedIn home page. In order to contact directly someone who is not yet a contact, you can either get introduced through a connection, become a connection by joining a group where you will find this person or finally use one of your InMails, if you have some. If you still can't connect with someone, you can search on the Internet for their company email address.
5 – Put forward your expertise, knowledge and passion
LinkedIn is a networking platform and the whole point of creating your LinkedIn profile is to engage in conversations with people. A great way to put forward your expertise on LinkedIn is to engage with people, agree or disagree, share your point of view, recommend people and tools to others, and make connections with 2nd connections people (meaning friends/colleagues of existing connections).
You'll also want to create your own posts and articles right inside LinkedIn. It can be as easy as sharing an interesting article you found online or an article that someone has shared on their own profile. It could be asking questions or asking for a recommendation to your network. It could be sharing an achievement, a milestone in your professional career or new skills you've acquired.
This is your opportunity to shine so make sure this is relevant to your short-term or long-term goals.
Finally, the best way to get noticed on LinkedIn is by helping and contributing to discussions with your connections. The more connections you have the more conversation you can engage in.

—
These are only 5 of the many opportunities for you on LinkedIn so now the ball is on your side. Do log in to your LinkedIn account now (or create it if you haven't got one yet!!) and start making meaningful connections, engaging with people, and making full use of this powerful platform.
As I often say, it has never been easier to create your dream work-life anywhere in the world and LinkedIn is certainly a good place to start.
One last tip – If the dream job you are looking for doesn't exist, it's time to be creative!
This last tip is the one I decided to go for when I left my last corporate job 7 years ago and the option I recommend to anyone wanting to make more impact in their community and have more freedom in the way they want to work. If your dream job is nowhere to be found, create your own dream opportunity with your own online business.
Whether you set it up under your own name (Personal Branding) or under a company name (like an agency),  you remain in charge of creating the service you want to offer and only work with your dream clients.
Whether you are a coach, a consultant, a speaker, a writer, or any other type of service provider, you can actually launch your own online business in a week. Once you know exactly what you want to do, the problem you're solving, who you want to work with and how you're going to deliver it, you can start signing dream clients very soon after launching.
And LinkedIn will be the best platform to get those dream clients.
If you've spent any time at all trying to make money through client work, you'll know there's one thing that holds nearly everyone back…
Acquiring their clients. But with Verve, acquiring clients is as easy as 1 2 3
—
If you're interested in getting started today, check out my mentoring programs for interactive guidance, marketing support, and weekly business mentoring to get you to where you want to be in less than a month.
To your success online!
Want to grow your mailing list faster (even as a newbie).
Add these 3 critical components to your freebie to turn your followers into serious subscribers.
↠ so that you gradually grow a list of dream clients willing to hear from you and ready to buy
↠ so that you don't waste your efforts and money talking to an uninterested audience or freebie seekers
Download now my free PDF guide and learn:
– The most important exercise to attract hundreds of new subscribers every month.
– How to connect your lead magnet to the rest of your offering
– The one thing that will make it 10x more effective once people get access to your freebie.
Simply enter your details below: