Laura Cruise – The Dream Life Transition Mentor
Website creation and marketing support
I created this website on the FEA Create Platform for my client, Laura Cruise. She wanted a beautiful website reflecting her brand and her style. We worked together on the Logo creation, the color palet as well as the visuals. She already had some lovely pictures professionally taken so I had a great choice of high quality pictures to work from.
Homepage
First, we designed the homepage keeping in mind the user experience (UX). I decided to keep the menu very simple with only a few items. The quiz is her main lead magnet for her mailing list so I placed it in the menu as well as directly under the header. I highlighted her recent features online and picked 3 ways to work with her. I added a testimonial section at the bottom of the home page as this is a very powerful marketing tool to engage with potential clients. Finally, I gave another opportunity for the readers to find their dreamers' type by completing the quiz.
Let's get you unstuck!
Email Marketing shouldn't take you away from the main purpose of your coaching business.
Get better results from your email marketing efforts so that you can focus on your passion – transforming people's lives.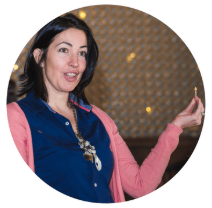 "You can build a successful career, regardless of your field of endeavor, by the dozens of little things you do on and off the job." – Zig Ziglar