"Where Is Sara?" Travel Blog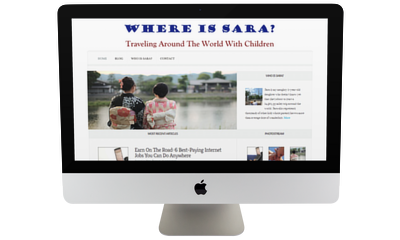 Web Design
Mirjam contacted directly on my website and hired me to launch her travel blog. She had a vague idea of what she wanted to do but didn't know how to implement it.
She was planning to go and travel around the world with her young daughter and decided to create a travel blog for single parents traveling with their children. As a copywriter, Mirjam knew she would be able to create a lot of articles for her blog but didn't know the technical aspect of the website creation and what could be her possible income streams.
I worked with Mirjam on her motivations, her skills and what she was passionate about. She decided to start her blog even before starting her adventures (which is always better since blogging is very rarely an overnight success).
I used a WordPress structure with an Elegant Themes template and hosted her website on Dreamhost.
Let's get you unstuck!
Marketing shouldn't take you away from the main purpose of your business.
Let's turn your visitors into clients (so that you concentrate on your business instead of trying to learn how to do online marketing).
Increasing your traffic and attracting your ideal clients isn't difficult. I promise!
"You can build a successful career, regardless of your field of endeavor, by the dozens of little things you do on and off the job." – Zig Ziglar