Website Design
Mary contacted me as she was about to start writing her book.  She had been advised to start building an audience even before launching the book.
She had some poems, articles and other pieces of content she wanted to showcase on her website so her blog page was the first item on the menu.
This is a WordPress site using Divi.  Here's her website – https://marywride.com/
Funnel / Email Marketing
Mary needed 2 landing pages for her free booklets. We used those as a lead magnet to grow her mailing list. She was able to keep in touch with her readers as well as letting them know when the book launched.
Both landing pages are linked to MailerLite email forms. I also set up and wrote welcome emails that get sent to those who requested the booklets. I created these landing pages on her WordPress website. Here's one of them –  https://marywride.com/life-of-riley/
Branding
Before creating the website, I worked with Mary to create a Branding and Style guide that I used as a guide while picking colours and fonts.
Let's get you unstuck!
Email Marketing shouldn't take you away from the main purpose of your coaching business.
Get better results from your email marketing efforts so that you can focus on your passion – transforming people's lives.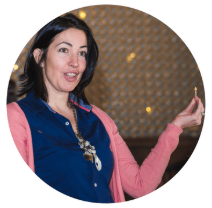 "You can build a successful career, regardless of your field of endeavor, by the dozens of little things you do on and off the job." – Zig Ziglar